World Cup Moments: David Beckham's Red Card vs Argentina in 1998
March 10th, 2010 | by: Daryl |

View Comments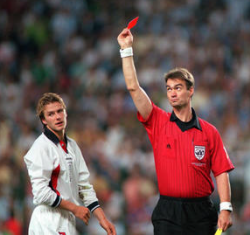 Because today is David Beckham's much talked about return to Old Trafford, it seems the perfect time to relive one of the key moments in Beckham's career. At World Cup 1998 the man not yet known as Goldenballs was just 23 years old and competing with Darren Anderton to play right wing back for England. After scoring a trademark free kick vs Colombia in the group stage, Beckham was given the start for the Second Round knockout game vs Argentina. But then it all went a bit wrong.
After being fouled by Argentina midfielder Digeo Simeone (who's still playing today at the age of 39, by the way) Beckham lashed out while lying on the floor, giving Simeone a not very cleverly disguised kick to the calf. The result was a red card for Beckham and England playing the rest of the game with ten men, eventually losing the penalty shootout.
Simeone later admitted he had over-reacted, and certainly the kick looks almost gentle with 12 years hindsight. But it was still a stupid thing to do and referee Kim Milton Nielsen had no choice but to get out his red card. Here's the video of David Beckham's sending off vs Argentina in 1998:
Then came the Beckham backlash.
I think it's fair to say that the English media (and to some extent the English public) went a bit mental, and made Beckham the scapegoat for England's World Cup exit. The Mirror's headline the following day was "10 Heroic Lions, One Stupid Boy". The tabloid also went on to publish a David Beckham dartboard for fans to "take their fury out on". (Said dartboard is – unsurprisingly – impossible to find on the internet today, although the article has been archived by various media archive organizations.)
The Mirror weren't alone, as pretty much all newspapers took their frustrations out on Beckham. An effigy of Man Utd's #7 was hanged outside a pub in London, and Beckham faced boos around Premier League grounds the following season.
The incredible thing is that Beckham managed to overturn his gargantuan unpopularity and win back public support with excellent performances for both Man Utd and England. In 1999 he was a key part of Man Utd's Champions League success, by 2000 he was England captain and in 2001 he had that career defining game vs Greece where he almost single handedly qualified England for World Cup 2002. I'd argue that Beckham's trial by fire that was being Public Enemy #1 in 1998 forced Beckham to mature as a player and as a man and it's probably not too much of a stretch to say it's a big part of what makes Beckham the mega-celebrity he is today.
- More World Cup Moments here.
Subscribe

International Football News – World Cup Blog RSS Feed

Share
blog comments powered by Disqus