World Cup Moments: Argentina's Passing Move Goal vs Serbia & Montenegro
April 21st, 2010 | by: Daryl |

View Comments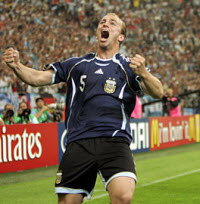 Some say it was 26 passes. Some say it was 25. Some say it was 24. I think the higher numbers include either the initial tackle or the actual finish or both. I say it doesn't matter which number you choose, because Argentina's second goal vs Serbia & Montenegro at the 2006 World Cup was something special. It was Esteban Cambiasso on the scoresheet, but this was a goal that belonged to the whole team.
It begins with a Maxi Rodriguez toe poke to regain possession, and twenty-something quick passes later it ends with a Hernan Crespo backheel and an Esteban Cambiasso finish. So many great things to say about this goal. Let's start with the obvious: The short passing and movement. We're always told this is how football should be played, but it's still rare to see it actually happen this way. Very few flicks, very few tricks, just top level professional footballers performing the very simple and effective action of passing and moving.
Here's the goal, in all its YouTubey glory:

I especially like that there's a sense of purpose about the passing. It's not slow or lazy, and so you always feel like this move is going somewhere. Even when Argentina go backwards there's a sense that they are looking to open up the S&M defence.
My favourite thing about this goal is that it ends with a flourish. Because Argentina (with, it must be said, more than a little help from Serbia & Montenegro's lackadaisical defending) made the passing move look so very easy, it would have been something of an anti-climax if they'd just walked the ball into the net. Easy doesn't always equal impressive. But after all the build-up, the goal itself happens quickly. Cambiasso gets it just outside the box and plays a quick ball into Hernan Crespo, who returns the pass with a perfectly weighted backheel. For me that backheel is the one bit of misdirection the move needed. The flourish. Cambiasso falls as he strikes the ball left footed, but it still goes in, straight up the middle. Brilliant.
The Guardian published a diagram of the move the next day, titled "Twenty-four Steps to Heaven", which design and architecture (and other stuff) blog City of Sound photographed to go with an excellent essay about the very same goal: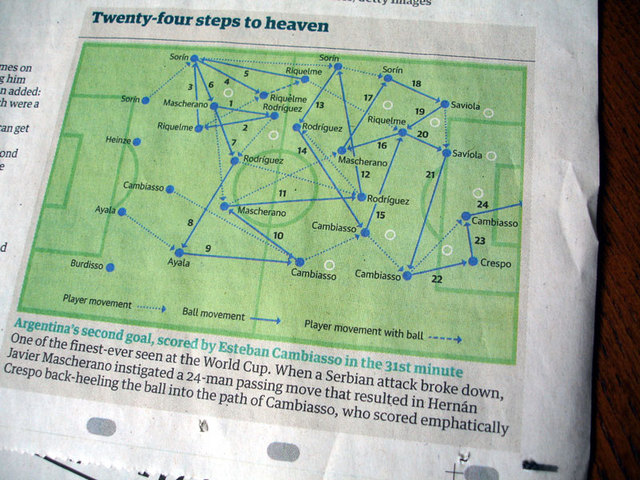 If your head hurts looking at all those overlapping lines, then try imagining how the S&M players felt watching the move unfold in front of them.
Argentina went on to win this game 6-0, and at that stage were everyone's favourite to win the 2006 World Cup. How could they not be? Obviously that didn't happen, and coach José Pekerman was so disappointed with Argentina's exit that he resigned. In one way that doesn't matter though. Because Pekerman and his 2006 Argentina won't be remembered for losing against Germany in the quarter-final. Pekerman and his 2006 Argentina team will be remembered for this goal, and that perfect passing move.
- More World Cup Moments.
Subscribe

International Football News – World Cup Blog RSS Feed

Share
blog comments powered by Disqus