World Cup Moments: Andrés Escobar's Own Goal vs USA
February 16th, 2010 | by: Daryl |

View Comments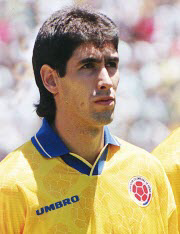 Sometimes own goals are funny. Sometimes they are not. Colombia defender Andrés Escobar's own goal vs USA at the 1994 World Cup definitely was not.
Colombia entered USA '94 as many people's "dark horses" to win the whole thing. Which is never a good sign. But with a squad featuring Carlos Valderrama, Faustino Asprilla, Freddy Rincón, Óscar Córdoba, Adolfo Valencia and more, and having topped their CONMEBOL qualification group with a 5-0 away win over Argentina, they were at least expected to make the second round.
Despite playing some good football in their World Cup 1994 Group A opening game vs Romania, they left that match with a 3-1 defeat, in part thanks to the precision of Gheorghe Hagi's left foot. Which made getting a result in the second game against hosts USA imperative. In the 35th minute, USA midfielder John Harkes crossed the ball into the Colombia box, and the 27 year old defender Andrés Escobar strecthed to intercept. Unfortunately, Escobar could only divert the ball past Óscar Córdoba to give the USA a 1-0 lead:
If you look closely, it's pretty clear that without Escobar's interception, Harkes' cross would very likely have found Earnie Stewart at the far post, where the USA players would have had a pretty straightforward tap-in. Escobar had no choice but to stretch for the ball.
USA went on to win the game 2-1, all but eliminating Colombia from the 1994 World Cup. Colombia beat Switzerland 2-0 in their final Group A game, but still finished bottom of Group A and went home as underachievers. That should have been that.
However, on July 2nd, 1994, just 10 days after Colombia's defeat to the USA, Andrés Escobar was murdered outside a bar in a suburb of Medellín, Colombia, with the killer apparently firing 12 bullets at his victim. It was widely reported at the time, and still widely believed today, that Escobar's murder was punishment for his own goal vs the USA. Various reports state that either Escobar's girlfriend or the police claim the killer shouted "Gol!" each time he fired. Humberto Muñoz Castro was the man convicted of Escobar's murder in 1995, but he was released in 2006 having served only 11 years of a 43 year sentence.
It's not clear whether Escobar was murdered by a betting syndicate that had wagered on Colombia making the second round, some other representative of organized crime, or simply a deranged fan. In some ways it doesn't matter. What's clear is that someone somewhere took the events of one World Cup game far too seriously, and Escobar paid the ultimate price.
The story of Andrés Escobar's murder may suggest that all Colombian football fans turned on him following his own goal. But that was absolutely not the case. A reported 120,000 people turned out to pay their respects at Escobar's funeral, and football fans apparenlty still bring photos and flags of him to games and regularly visit his grave.
- For more World Cup Moments click here.
Subscribe

International Football News – World Cup Blog RSS Feed

Share
blog comments powered by Disqus