World Cup Moment: Jimmy Greaves Turns Dog-Catcher in 1962
February 3rd, 2010 | by: Daryl |

View Comments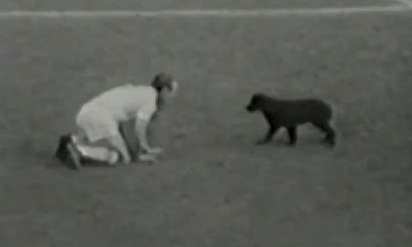 The Chile 1962 World Cup quarterfinal between England and holders Brazil was just a few minutes old when play was stopped by a canine pitch invasion. Somehow a stray dog was on the field of play and was proving difficult to catch, avoiding Brazil keeper Gilmar and – most remarkably – teaching Garrincha himself a thing or two about dropping the shoulder and accelerating away from your pursuer.
England striker Jimmy Greaves took a different approach, dropping on to all fours and slowly inching towards the dog before – gently but firmly – wrestling it to the ground and handing it over to the officials. Video below:
Possibly my favourite thing about this World Cup moment is the BBC commentary from (I think) Kenneth Wolstenholme. Whether deliberately or not, he narrates the pursuit of the dog as if it were part of the actual game. "Now Jimmy Greaves… will he? … Well done Jimmy!" Great stuff.
You may also notice that Greaves can be seen shaking his hands after passing the dog to officials. That's because the dog apparently – what's the polite term? – urinated all over Greaves during their little wrestling match. So Greaves played the rest of the World Cup quarterfinal smelling of dog wee. Nice.
Legend has it that Garrincha found this incident so amusing that he later adopted the dog. However, there's not a great deal of evidence to back this up, and as the website Garrincha's Dog suggests:
Although this tale has been the subject of many column inches, I'm not entirely sure that it's true. The winger was attacked by a dog as child; it seems unlikely that he would want offer shelter to a stray – even one with a well-developed sense of humour.
What's definitely true is that Garrincha went on to score two goals as Brazil beat England 3-1 and went on to win their second World Cup:
Subscribe

International Football News – World Cup Blog RSS Feed

Share
blog comments powered by Disqus