Soundoff: What's Your Favourite World Cup Moment?
April 20th, 2010 | by: Daryl |

View Comments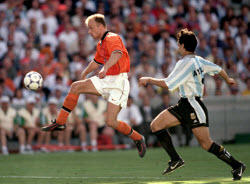 As you hopefully know by now, we've been running a series of posts titled World Cup Moments, where we highlight memorable events from World Cup past like Dennis Bergkamp's goal vs Argentina in 1998 or Andrés Escobar's tragic own goal vs USA in 1994.
We're also planning a special "World Cup Moments" edition of the Total Football Soccer Show's World Cup 2010 podcasts, and so now we want to hear from you: What is your favourite World Cup moment?
Please let us know in the comments with a description of your favourite moment, and maybe a little explanation of why you like it so much. The best ones will be read out on the radio show, and any good ones we haven't covered so far will hopefully get a World Cup Moments post.
Subscribe

International Football News – World Cup Blog RSS Feed

Share
blog comments powered by Disqus