World Cup Moments
February 1st, 2010 |

View Comments
World Cups aren't just about who lifts the trophy at the end. They're also about the incredible moments that are shared by a global audience. In this series of feature posts, we focus in on such moments so football fans everywhere can relive (or maybe even learn about) the events of World Cups past.
This is a menu of all our World Cup Moments feature posts. Simply click the title to read the full post.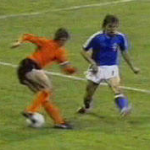 Johan Does the Cruyff Turn in 1974
Cruyff unveiled his simple but brilliant turn to a global audience at the 1974 World Cup. Swedish right back Jan Olsson probably wishes Cruyff had waited.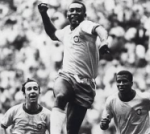 Pelé Becomes the Youngest Goalscorer in a World Cup Final
1958 was a big year for Pelé. The 17 year old became the youngest scorer in World Cup history, the youngest player to score a World Cup hat-trick, and the youngest player to score in a World Cup final.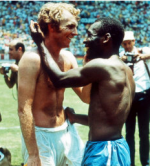 Pelé and Bobby Moore Swapping Shirts in 1970
This exchange between the two legends after the famous Brazil vs England 1970 World Cup game popularized the idea of opponents swapping shirts.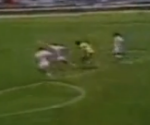 The Bobby Moore Tackle
A lot of English people think Bobby Moore's tackle on Jairzinho was the greatest of all time. Do you agree?

Alcides Ghiggia Silences the Maracanã in 1950
Brazil expected to claim their first World Cup title in 1950 by beating Uruguay at the Maracana. Uruguayan winger Alcides Ghiggia had other plans.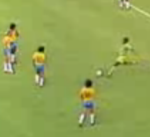 Zaire's Ilunga Mwepu Deals With a Brazilian Free Kick in 1974
Ilunga Mwepu had an innovative idea for nullifying Brazil's threat from direct free kicks. Simply kick the ball far far away, before the Brazilians have chance to take it. Mwepu himself has an excellent sense of humour about the incident, as shown on the Fantasy Football League recreation.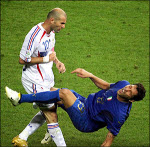 Zinedine Zidane Headbutts Marco Materazzi
The defining image of the 2006 World Cup, and a moment which caught the attention of the whole world. Even the parts that don't care about football.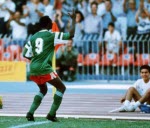 Rene Higuita Dribbles, Roger Milla Dances
Cameroon striker Roger Milla dispossessed Colombia keeper Rene Higuita mid-dribble, scored and then followed it up with one of the all time great goal celebrations.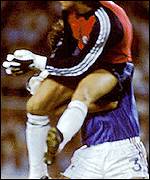 When Harald Schumacher Met Patrick Battiston. In Mid-Air.
The result was a horrible collision that left Battiston floored. But not a penalty. It was a goal kick to West Germany instead.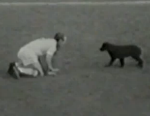 Jimmy Greaves Turns Dog-Cather in 1962
It was England vs Brazil at the 1962 World Cup in Chile, when a dog ran on the pitch. Various players were unable to catch the canine, until Jimmy Greaves got down on all fours and got the dog's attention.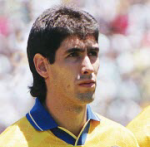 Andrés Escobar's Own Goal vs USA
Over a decade later, I still find this story impossible to believe. Colombia's Andrés Escobar scored an own goal at the 1994 World Cup, which effectively eliminated his team. 10 days later he was murdered.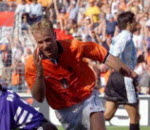 Dennis Bergkamp's Goal vs Argentina in 1998
A frighteningly good goal. You haven't seen a man control a football until you've seen Dennis Bergkamp's three touches vs Argentina. The fact that he did it to win a World Cup quarter-final in the 89th minute makes it twice as impressive.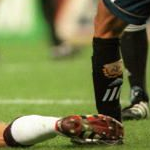 David Beckham's Red Card vs Argentina in 1998
Becks may be popular now, but his balls weren't quite so golden in 1998. Beckham's petulant kick at Diego Simeone saw most of England turn on him, but also laid the ground for maybe the biggest turnaround in public opinion that football has ever seen.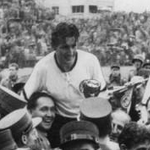 Das Wunder von Bern, 1954
The Might Magyars were supposed to win the World Cup in 1954, and West Germany (still recovering from World War II, and with no World Cup wins ever) were not. But that's not what happened.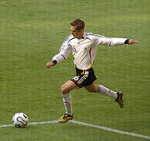 Philipp Lahm Kicks Off The World Cup Properly, 2006
The first goal at a World Cup can set the tone. Especially for the host nation. Phillip Lahm's goal was the perfect opening to World Cup 2006.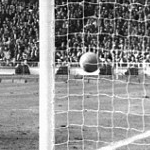 Geoff Hurst, 1966. Did the Ball Cross the Line?
The linesman said yes, the referee agreed, and England won their first ever World Cup. But did it really cross the line?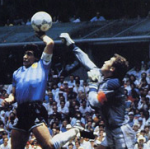 Diego Maradona and the Hand of God
The 1986 World Cup final between England and Argentina was decided by Diego Maradona. His second goal was a thing of beauty, but his first was a blatant handball. Featuring quotes from El Diego himself about the motivation behind this most famous bit of World Cup cheating.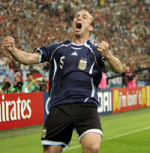 Esteban Cambiasso Finishes Argentina's Passing Move vs Serbia & Montenegro
Zidane's headbutt may have grabbed all the 2006 World Cup headlines, but lovers of long passing moves were still talking about the way Argentina moved the ball in this game long after the last Zizou headbutt joke had been made. Was it 24, 25, or 26 passes? Doesn't matter, it was perfect.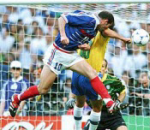 Zidane's Other World Cup Final Headers
You might know him for his silky feet and his headbutts, but back in 1998 Zinedine Zidane earned his spot as a superstar with two headed goals in a World Cup final.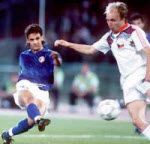 Roberto Baggio's Goal vs Czechoslovakia, 1990
With Italy hosting the World Cup, and without his trademark ponytail, Roberto Baggio scored this incredible goal vs Czechoslovakia at the 1990 World Cup.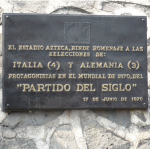 Game of the Century: Italy 4-3 West Germany, 1970
A World Cup semi-final, a packed Azteca Stadium in Mexico, Italy vs West Germany, 1970, seven goals, five of of which came in extra time. The game of the century.

Subscribe

International Football News – World Cup Blog RSS Feed

Share
blog comments powered by Disqus