World Cup Whistleblower Gunned Down
January 7th, 2009 | by: Daryl |

View Comments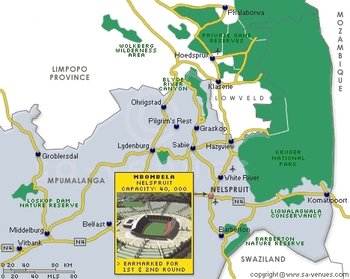 Wish I had some good news to share about World Cup 2010. But I don't.
Earlier this week Jimmy Mohlala – a member of the WC organizing committee, former South African FA executive and Speaker of the Mbombela local municipality – was murdered outside his home by unknown gunmen.
Nothing good about that. But this tragedy is made even more depressing by the fact that Mohlala had a reputation as a World Cup 2010 stadium corruption whistleblower.

There's an informative description of the alleged corruption in Bill Archer's great article, but here's the gist of it:
Under South Africa's "Land Redistribution Act", large tracts were given (or given back) to tribes and clans who could show historical ownership rights.

The site for the Nelspruit Stadium [aka Mbombela Stadium] was given to a clan who in turn hired the Matsafeni Trust to manage it.

But when that site was chosen for the stadium, a trust administrator sold 6000 acres of land he didn't own to the municipality for one Rand, or about eleven cents US. It was later revealed that the administrator is a business partner with the Mayor and another local politician. Imagine that.

Jimmy Mohlala was working to expose the swindle.
And now he's dead.
Police are working on the case etcetera, but there's a definite feeling in the air that this wasn't just a random murder.
Obviously I don't have knowledge of South African politics and don't want to make any big allegations, but if Mohlala's murder and his whistleblowing turn out to be connected, then I hope FIFA have the decency not to participate in the inevitable attempt to sweep this scandal under the rug.
Subscribe

International Football News – World Cup Blog RSS Feed

Share
blog comments powered by Disqus