World Cup Viewing Parties Around the USA
June 2nd, 2010 | by: Ian Rose |

View Comments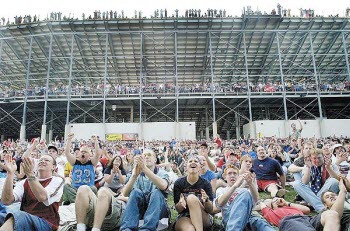 It's nine days now until World Cup 2010 kicks off and the world takes a short break from work, play and shooting at each other to watch some world-class footy. Thousands will travel to South Africa to support their teams, but hundreds of millions more will watch from their home countries, making this maybe the most watched television event ever. But there are more options for watching the World Cup than just A) fly to Africa, or B) watch it on your TV at home.
If you're going to be in the US for the World Cup, several cities are getting in on the fun, setting up large public screens to watch the matches. Here's a breakdown of the what, where and when:

Boston, MA
June 12th: USA v. England — New England Revolution players will be on hand at the House of Blues for a viewing of the game against (old) England. There will be giveaways including signed jerseys and more. Get there early – first come, first served.
July 11th: World Cup Final — 300,000 people are expected to watch the match at Boston's City Hall Plaza, a large red brick and concrete square.
Chicago, IL
July 11th: World Cup Final — Thousands of fans will watch the World Cup Final in Chicago's Soldier Field. The $20 admission includes entry to other festivals being held in the local area for the big day, including the EthniCity Soccer Festival the same morning. Gates open at 2pm. More information.
Dallas, TX
June 11th: South Africa v. Mexico — FC Dallas' official World Cup kickoff viewing party starts at 9am on the 11th, with a free showing of the opening match at Pizza Hut Park.
June 12th: USA v. England — The colonial battle match in group C will be shown on a big screen in Victory Park outside of the American Airlines Center, starting at 11am. Admission is free.
Kansas City, MO
The Kansas City Power and Light District (which is a misleading name for a big entertainment complex) is hosting a World Cup Watch Part for every single World Cup game (even the third place playoff) in its Living Room facility. More information.
Portland, OR
June 12th: USA v. England — Director Park in downtown Portland will be the spot for Portland soccer fans to watch the big match on a big screen and (being Portland) there will undoubtably be plenty of beer options. As added incentive, the new logo for the MLS Portland Timbers will be unveiled to the fans at halftime. Starts at 11am.
July 11th: World Cup Final — A truck-mounted LED screen will be set up in Pioneer Courthouse Square to show the Final. Again, everything starts at 11am.
San Francisco, CA
A truck-mounted, hydraulically elevated 13-foot-by-18-foot screen will be set up in Civic Center Plaza in front of City Hall. The games will be shown all month and admission is free. More information.
New York, NY
Soccer pubs like Nevada Smiths, Jack Demsey's and many many others will obviously be showing the games, but there are no large public screenings announced so far.
Philadelphia, PA
June 12th: USA vs England — There are rumours of a viewing party at PPL Park (home of Philadelphia Union) but I can't vouch for it being official. I'd suggest contacting the club
San Diego, CA
June 11th: Mexico vs South Africa (and all subsequent Mexico game) — The Univision Mexico Viewing Events will be held at Fiesta Hall in San Diego. Entrada Gratuita, according to the poster. More information.
Seattle, WA
June 12th: USA vs England — Emerald City Supporters and American Outlaws Seattle are hosting a Red, White and Brew viewing party at Neumos in the Capitol Hill section of Seattle. The game will be broadcast in HD onto a 12′ x 9′ screen. Entrance is 21+, capacity is limited to 650 people, and there is no charge for entry. Doors open at 8am and close at 4pm.
Stratford, CT
June 12th: USA vs England — United Athletic Centers will be hosting a World Cup viewing party for the Group C opener, and are promising an 82″ screen. Doors open at 11am and admission is $10. More information.
St. Louis, MO
June 12th: USA vs England — Will be shown on a giant 9'x15' Jumbotron screen, June 12 at the Old Post Office Plaza, Noon to 4 pm. Bring your lawn chairs for seating. More information.
Washington, DC
June 12th: USA vs England — This is not yet confirmed, but there is an attempt underway to broadcast at least the USA vs England game and possibly more on a giant screen in DuPont circle. If it happens, the event will be titled "Soccer in the Circle". More information.
If you're going to one of these screenings, then be sure to wear a World Cup jersey.
Do you know of any other big World Cup screenings happening anywhere else in the USA? Please share in the comments, and leave a link if possible so we know it's official.
Subscribe

International Football News – World Cup Blog RSS Feed

Share
blog comments powered by Disqus