World Cup Team History: Argentina (Part I: 1930-1982)
December 11th, 2009 | by: Daryl |

View Comments
We're doing a series of World Cup team history posts for each of the 32 teams at the 2010 World Cup in South Africa. However, some teams have a little more history than others.
The albiceleste stripes of Argentina have appeared in 14 previous World Cups, stretching all the way back to the inaugural 1930 edition. Theirs is a rich rich story, full of triumph, disappointment, and a fair bit of controversy. Too much for just the one post, and so our history of Argentina at the World Cup has been split into two parts.
This is part one, covering 1930 to 1982. Part two can be found here.
1930 World Cup in Uruguay
The first ever World Cup was hosted just across the River Plate in Uruguay. Argentina were seeded and placed in Group 1 with France, Mexico and Chile. They topped the group by winning all three games and scoring ten goals along the way, including a scoresheetariffic 6-3 win over Mexico. Argentina then beat the USA (yep, USA made the 1930 World Cup semis) 6-1 in the semi-final and faced hosts Uruguay in the first ever World Cup final (and a rematch of the 1928 Olympics final, which Uruguay had won).
The Estadio Centenario in Motevideo was packed to its 93,000 capacity (officially, but the actual number is probably higher). Argentina led 2-1 at half-time, but Uruguay eventually won 4-2 to lift the trophy at home.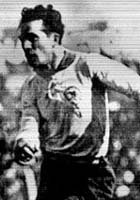 One of the mosting interesting things about Argentina's 1930 World Cup run was their centre forward Guillermo Stábile (pictured). The 5′6″ forward (thanks Wikipedia) had never played for Argentina before, and didn't play in the opening game against France. But he made his debut against Mexico in the second game and banged in a hat-trick in the 6-3 win, thereby cementing his place in the team. Stábile went on to score in every game (including the final) and finished as the first ever World Cup top scorer with 8 goals.
After his World Cup success, Stábile moved to Italy to play for Genoa and so never played for Argentina again. So his final international stats are: four appearances, eight goals, World Cup top scorer. A short short international career, but arguably one of the most successful ever.
1934 World Cup in Italy
The next World Cup was not so successful for Argentina. With 16 teams, it was a straight knockout. No group stages. Argentina faced Sweden in the first game, but lost 3-2 in Bologna, with Knut Kroon scoring Sweden's winner in the 79th minute.
However, Italy went on to win the tournament fielding more than one Argentine oriundi (foreign born player of Italian descent). The most high profile example was defender Luis Monti, who had played for Argentina in the 1930 World Cup final, but played for Italy in the 1934 World Cup final.
1938, 1950 and 1954 World Cups
South American teams were not impressed with FIFA's decision to host the 1938 tournament in France as they thought the World Cup would be rotated back and forth between Europe and South America. So Argentina and Uruguay withdrew in protest. Argentina also withdrew from the 1950 World Cup and failed to qualify for the 1954 World Cup.
1958 World Cup in Sweden and 1962 World Cup in Chile
Argentina qualified for both the 1958 tournament in Sweden and the 1962 tournament in Chile, but failed to get out of the 1st Round group stage at either tournament. In 1958 they lost 3-1 to world champions West Germany, beat Northern Ireland 3-1, but lost 6-1 to Czechoslovakia in the final game and finished bottom of the group.
In 1962 they beat Bulgaria 1-0, but lost 3-1 to England and could only draw with Hungary. They finished third and just missed out on the second round.
1966 World Cup in England
Argentina got it together again in 1966, but the tournament ended in controversy and with the berth of a long running rivalry. The albiceleste finished second in Group 2 on goal average after beating Spain 2-1, drawing with West Germany 0-0 and beating Switzerland 2-0.
In the quarterfinals they faced hosts England at Wembley. Captain Antonio Rattín (an imposing and impressive 6′4″ midfielder) was sent off in the 35th minute by German referee Rudolf Kreitlein for "violence of the tongue" while disputing a decision (despite Kreitlein apparently speaking no Spanish).
Rattín refused to leave the field and staged an impromptu protest by walking on the royal red carpet which was reserved for the Queen and wrinkling the British flag while making his eventual exit. Scandal at the time, brilliant entertainment now:
It's also said that this is the game that led to the invention of the red and yellow card system. So there's something. England went on to win the game 1-0, and a rivalry was born. Argentina failed to qualify for the 1970 Wolrd Cup, but the two would meet again in 1986.
1974 World Cup in West Germany
Argentina were drawn in Group 4 with Poland, Italy and Haiti. After losing the opening game 3-2 to Poland, they drew 1-1 with Italy and beat Haiti 4-1. Argentina pipped Italy to second place thanks to a better goal difference.
In the Second Round they were drawn into Group A with the Netherlands, East Germany and rivals Brazil. A Johan Cruyff inspired Netherlands beat them 4-1, Brazil beat them 2-1 (in what I believe is the first World Cup meeting between the two) and they could only draw 1-1 with East Germany.
1978 World Cup in Argentina
Or the blue and white tickertape World Cup. Brazil had three World Cup win at this point. Argentine had none. So hosting the tournament was seen as the albiceleste's best chance to finally lift the trophy. Cesar Luis Menotti was in charge, and his star players included defender Daniel Passarella and striker Mario Kempes, who entered the tournament as back to back top scorer in La Liga with Valencia, and Menotti's only foreign based player. The 17 year old Diego Maradona just missed out on making Menotti's final 22 man squad.
Argentina got through Round 1 by beating both Hungary and France 2-1 and losing 1-0 to Italy. But Kempes failed to score. Just as he had failed to score at World Cup 1974. But he found his touch in the second round (made up of two groups) by scoring both goals as Argentina beat Poland 2-0. Argentina then held Brazil 0-0 in what's become known as The Battle of Rosario.
It all came down to the final group games, with Argentina needing a 4-0 win over Peru to guarantee qualification for the World Cup final. They won 6-0, including another two from Kempes. There was some suspicion about the size of the win and the fact that Peru's keeper Ramón Quiroga was born in Argentina, but apparently he saved more than he let in. So Argentina faced the Netherlands in the 1978 World Cup Final…
…and won it 3-1 after extra time with another two goals from Mario Kempes.
1982 World Cup in Spain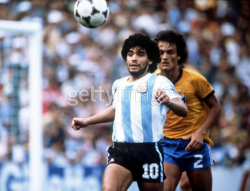 This is where we welcome Diego Maradona to the big stage. It didn't start well, as the defending world champions (with Menotti still in charge) lost their opening group game 1-0 to Belgium. No worries though, as a 4-1 in over Hungary (including El Diego's first World Cup goal) and a 2-0 win over El Salvador saw them through to the second round.
Where they were drawn into Group C alongside Italy and Brazil, with only the winner advancing to the semi-finals. A proper group of death then.
Argentina lost 2-1 to Italy and so needed to beat Brazil in the second game. They were outclassed and lost lost 3-1, with a frustrated Maradona being sent off in the 85th for kicking João Batista. But don't worry, he'll be back in Part II.
Subscribe

International Football News – World Cup Blog RSS Feed

Share
blog comments powered by Disqus