World Cup Moments: Rene Higuita Dribbles, Roger Milla Does the Corner Flag Dance
January 14th, 2010 | by: Daryl |

View Comments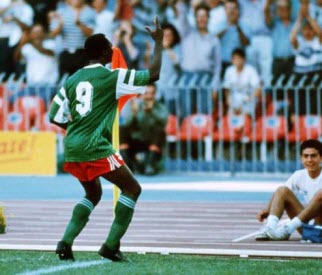 This is one of my favourite World Cup moments, mostly because it features two iconic footballers. First there's the legendary Roger Milla. The 38 year old striker who came out of retirement to play for Cameroon at the 1990 World Cup, after receiving a persuasive phone call from Cameroon's President Paul Biya. Milla scored four goals at Italia '90 as Cameroon made it all the way to the quarter-finals, the first African team to do so, and celebrated each goal with his now legendary (and oft copied) cornerflag dance.
The second man involved in this moment is Colombia's Rene Higuita. The frizzy-haired goalkeeper of scorpion kick fame. He was also famous for his footwork, regularly enjoying a bit of dribble with the ball. In the Cameroon vs Colombia Round of 16 match, with Cameroon already leading 1-0 in extra time, Highuita attempted to pull drag back outside his box. Milla dispossessed him and dribbled through to score, thereby booking Cameroon's place in the quarters. And of course Milla celebrated with the corner flag. Video below.
The first goal is Milla opening the scoring, the second is the famous moment when he dispossesses Higuita. Quick thinking from Milla, over-confidence from Higuita. While I'd agree with the commentator that the return pass to Higuita was sloppy, the keeper can't blame anyone but himself for the attempted dragback.
Cameroon lost the cracking 1990 World Cup quarter-final 3-2 to England, but the Indomitable Lions returned to the World Cup in 1994, where a 42 year old Roger Milla became the oldest goalscorer in World Cup history.
Subscribe

International Football News – World Cup Blog RSS Feed

Share
blog comments powered by Disqus