World Cup Moments: Pelé Becomes the Youngest Goalscorer in a World Cup Final
December 18th, 2009 | by: Daryl |

View Comments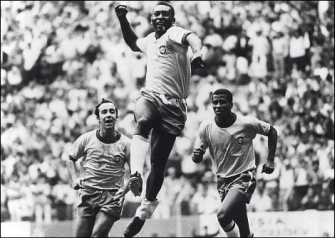 We all know Pelé was good. But it's easy to forget just how good. If you have any doubts, take a look at Pele's first goal for Brazil vs Sweden in the 1958 World Cup Final, below. The striker takes the ball on his chest, lifts it over the defender's head with his right and then volleys home low with the same foot.
That goals made the score Brazil 3-1 Sweden. Now factor in the fact that Pelé was just 17 years old at the time, and you've got yourself something special. The great man added a second goal when he headed home in the 90th minute as Brazil went on to beat Sweden 5-2. All seven goals are below:
The first goal made Pelé the youngest goalscorer in a World Cup final at 17 years and 249 days. He still is. I'm not to keen to share what I was doing at 17, but it wasn't that. Pelé also remains the youngest scorer in a World Cup tournament (vs Wales in the quarter-final, aged 17 years and 239 days) and the youngest scorer of a World Cup hat-trick (vs France in the semi-final, aged 17 years and 244 days).
For more on Brazil visit Duvel at Brazil World Cup Blog.
Click here for more World Cup Moments.
Subscribe

International Football News – World Cup Blog RSS Feed

Share
blog comments powered by Disqus