World Cup Moments: Pelé and Bobby Moore Swapping Shirts in 1970
December 22nd, 2009 | by: Daryl |

View Comments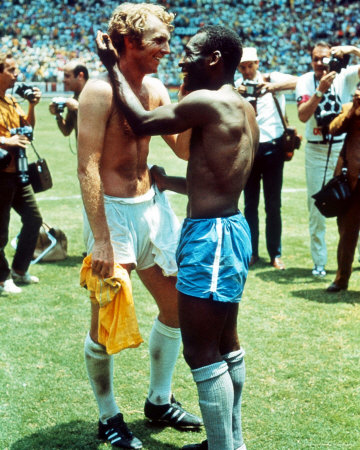 This is the iconic moment where Brazil's Pelé and England's Bobby Moore swapped shirts following their classic encounter at the 1970 World Cup in Mexico.
Brazil won 1-0 with a great goal from Jairzinho, but the game also featured the Gordon Banks save and the Bobby Moore tackle (click that link for video of those moments from a very England biased perspective).
The shirt swapping between two great players, both of them already World Cup winners (and Pelé on his way to a third medal) was a sign of mutual respect and is thought to have popularized the concept of shirt-swapping. It wasn't the first time players had exchanged jerseys at full-time (according to FIFA that was probably in 1931) but the above moment is probably the reason shirt-swapping happens so regularly in modern football.
- Click here for more World Cup moments.
Subscribe

International Football News – World Cup Blog RSS Feed

Share
blog comments powered by Disqus