World Cup Moments: Alcides Ghiggia Silences the Maracana in 1950.
December 29th, 2009 | by: chris |

View Comments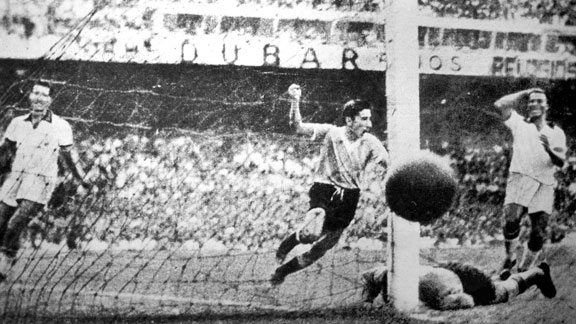 Before there was Pele, there was Alcides Ghiggia. Before there was Brazil, there was Uruguay. And before Brazil became champions, there was heartache.
The heartache felt was in 1950, directly after the final. A final held on home soil, in Rio de Janiero, at the mecca known as the Maracana, and a final they lost despite being heavy favorites. They became the first team to lose a World Cup final on its home soil, Italy and Uruguay had won their home finals previously, and are only the second ever. (A blow so crushing they forced Sweden to feel their pain in 1958 under the same circumstances.)
Brazil can breathe a bit easier now, but there was a day, as ludicrous as it may seem, when Brazilians thought they "would never win the World Cup" – thanks to Alcides Ghiggia.

The 1950 World Cup final was a curious one, as there was no knockout round, but rather a second group stage comprised of one group: the winners from the groups of the first stage. This means the "final" was simply the final group game, but it worked out such that Brazil & Uruguay were the only possible winners. However, much to the joy of the favorites Brazil, they only needed a draw to hoist the trophy for the first time ever. Of this they were supremely confident, doing the one thing we now know you never, ever do: proclaimed victory before the match was played.
Brazil opened the scoreline in the 47th, earning a tremendous advantage now 1-0 up and needing only a draw. But it was a 13 minute period in which Alcides Ghiggia took the knife to Brazil and sent the stadium to its knees.
In the 66th, Alcides, a pacy winger, burst down the right and cut a ball into the middle, where it was poked home by Juan Schiaffino – who, like Ghiggia, went on to play for Milan, Roma and the Italian national team back when this sort of thing was allowed – to draw level with Brazil. Still needing the full victory, Ghiggia did it again in the 79th, bursting to the right of the goal, but this time tucking it just inside the post. The stadium, as legend has it, went quiet.
Uruguay had scored with eleven minutes remaining, taking the lead 2-1. When the whistle sounded Uruguay became World Cup winners for the second time in as many tries, doing so against neighbors and rivals Brazil. Ghiggia became a national icon for his heroics, the second goal a frozen moment of legend. But perhaps more famously, as Ghiggia once said himself, he silenced one of the world's greatest stadiums:
Only three people in history have managed to silence the Maracana with a single gesture: the Pope, Frank Sinatra and I.
The story of that final:
- Click here for more World Cup moments.
Subscribe

International Football News – World Cup Blog RSS Feed

Share
blog comments powered by Disqus