World Cup 2010 National Anthems: Australia, Germany, Ghana, Serbia
April 26th, 2010 | by: Daryl |

View Comments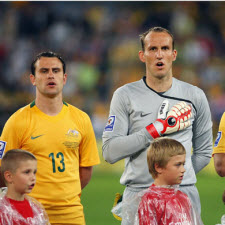 Before every international football match, the national anthems of the two competing teams are played. It's all about tradition and patriotism, and it's one of my favourite ceremonial things about the World Cup. We're covering the national anthems of all 32 teams at World Cup 2010, group by group, four teams at a time. Last time it was Group C, so today it's Group D. We'll be looking at (and listening to) the national anthems of Australia, Germany, Ghana and Serbia.
So to find out why Australia's anthem isn't "Waltzing Matilda" and why the lyrics to the German anthem aren't what you might think they are, read on…
National Anthem of Australia
"Advance Australia Fair" has been around since the late 1800s, but has only been the national anthem of Australia since 1984. Before that the official anthem was "God Save the Queen" (or "King") until "Advance Australia Fair" proved popular in a series of national polls, with "Waltzing Matilda" coming second. Full story about the polls can be found on the official Australia.gov page.
Lyrics to "Advance Australia Fair":
Australians all let us rejoice,
For we are young and free;
We've golden soil and wealth for toil;
Our home is girt by sea;
Our land abounds in nature's gifts
Of beauty rich and rare;
In history's page, let every stage
Advance Australia Fair.
In joyful strains then let us sing,
Advance Australia Fair.
Beneath our radiant Southern Cross
We'll toil with hearts and hands;
To make this Commonwealth of ours
Renowned of all the lands;
For those who've come across the seas
We've boundless plains to share;
With courage let us all combine
To Advance Australia Fair.
In joyful strains then let us sing,
Advance Australia Fair.
National Anthem of Germany
(This one's tricky, but I'm going to do my best and then hope that someone like Jan steps in and corrects any mistakes in the comments.)
The German national anthem is called "Deutschlandlied" ("Song of the Germans") and the lyricswere penned by August Heinrich Hoffmann back in 1841. The first two lines of "Deutschlandlied" really are "Germany, Germany above all, Above everything in the world." Which I know raises a few eyebrows. But there are two gigantic caveats.
1. The lyrics were written at a time when German national unity was not guaranteed, and so that line is very possibly a reference to the larger Germany being more important than the individual states, as opposed to Germany being better than, say, France or England or any other rival nation.
2. Ever since 1952, only the third verse of "Deutschlandlied" is officially sung. So it's absolutely not true to go around saying that Germans sing "Germany, Germany above all" as the national anthem. Only that they used to, and even then it didn't quite mean what you think it means.
Here are the lyrics to the third verse:
Unity and law and freedom
For the German Fatherland
Let us all strive for that
In brotherhood with heart and hand!
Unity and law and freedom
Are the foundation for happiness
Bloom in the glow of happiness
Bloom, German Fatherland.
---
National Anthem of Ghana
<p align="center"<
"God Bless Our Homeland Ghana" has been the national anthem of Ghana ever since the nation achieved independence in 1957. I'm particularly happy with the nice, straightforward title.
Lyrics to "God Bless Our Homeland Ghana":
God bless our homeland Ghana,
And make our nation great and strong,
Bold to defend forever
The cause of Freedom and of Right.
Fill our hearts with true humility
Make us cherish fearless honesty,
And help us to resist oppressors' rule
With all our will and might evermore.
Hail to thy name, O Ghana
To thee we make our solemn vow;
Steadfast to build together
A nation strong in Unity;
With our gifts of mind and strength of arm,
Whether night or day, in the midst of storm,
In every need whate'er the call may be,
To serve thee, Ghana, now and evermore.
Raise high the flag of Ghana,
And one with Africa advance;
Black star of hope and honor,
To all who thirst for liberty;
Where the banner of Ghana free flies,
May the way to freedom truly lie
Arise, arise, O sons of Ghanaland,
And under God march on forevermore.
---
National Anthem of Serbia
"Боже правде" or "Bože pravde" or "God of Justice" was written in 1872, and was the Serbian national anthem until Yugoslavia was formed in 1918. When Serbia became fully independent again in 2006, "God of Justice" was re-adopted as the national anthem.
"God of Justice" English lyrics:
God of Justice; Thou who saved us
when in deepest bondage cast,
Hear Thy Serbian children's voices,
Be our help as in the past.
With Thy mighty hand sustain us,
Still our rugged pathway trace;
God, our hope; protect and cherish
Serbian lands and Serbian race!
Bind in closest links our kindred
Teach the love that will not fail,
May the loathed fiend of discord
Never in our ranks prevail.
Let the golden fruits of union
Our young tree of freedom grace;
God, our Master! guide and prosper
Serbian lands and Serbian race!
Lord! Avert from us Thy vengeance,
Thunder of Thy dreaded ire;
Bless each Serbian town and hamlet,
Mountain, meadow, heart and spire.
When our host goes forth to battle
Death or victory to embrace-
God of armies! be our leader
Strengthen then the Serbian race!
On our sepulchre of ages
Breaks the resurrection morn,
From the slough of direst slavery
Serbia anew is born.
Through five hundred years of durance
We have knelt before Thy face,
All our kin, O God! deliver,
Thus entreats the Serbian race!
---
Subscribe

International Football News – World Cup Blog RSS Feed

Share
blog comments powered by Disqus