World Cup 2010 Jerseys: Portugal.
May 17th, 2010 | by: chris |

View Comments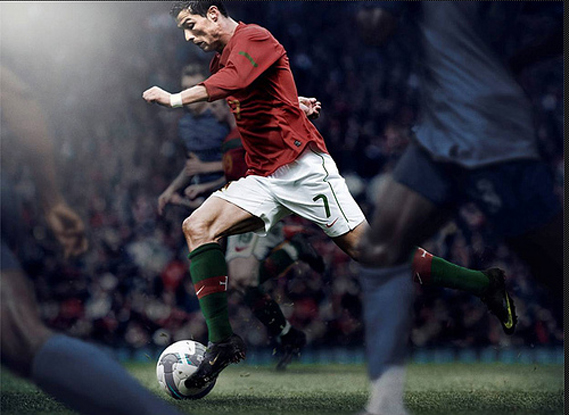 Not all fashion tasks are created equal, like mankinis for the obese, fur coats for dogs and Canadian tuxedos. Nike was posed one of these difficult problems when handed the sketching pads for Porgual's World Cup 2010 kit: how not to make red, white and green look like Christmas.
Well, that was the first part. The second part was to create something which distracts from Nani's Jheri curl and Cristiano Ronaldo's toxic volumes of hairgel.
It appears Nike has succeeded on both fronts – no ho, ho, ho here. Although managing to market it with anyone but Cristiano Ronaldo…that didn't go quite as well.
---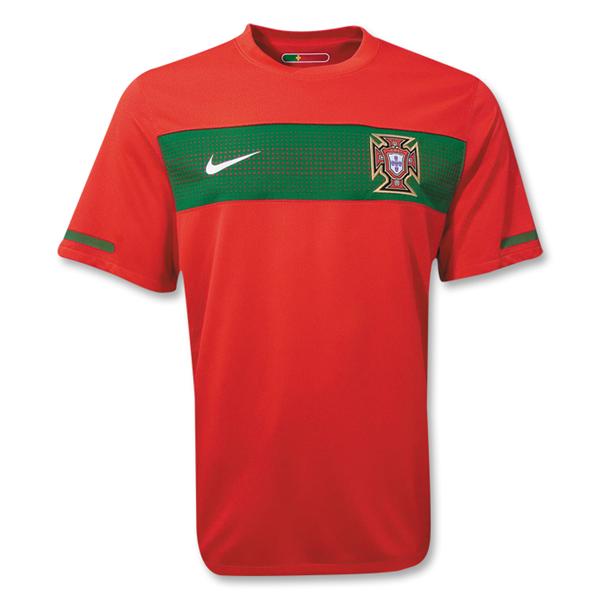 Want one? Buy the Portugal World Cup home shirt in our store.
Outside of the chest, this shirt has so little going on outside of the torso block – few seams, no color shades, no slight alterations – the green additions on the sleeve (and there's one on the back which is otherwise entirely red) feels as though they could've been forcibly planted there simply to spice it up. And really, what's the Portuguese NT without a little flair?
But that block on the chest is a wonderful little, or not so little, addition to a home kit which is so often so bland – plain red. It's your basic rectangle in Portuguese green, but with lines of red stitching that makes it seem based in design rather than "we'll just throw this here" (a tried and true tactic from a few World Cups).
The only problem is it's right in the middle of the torso – why not run the dazzle up the sides like a proper Portuguese team?
---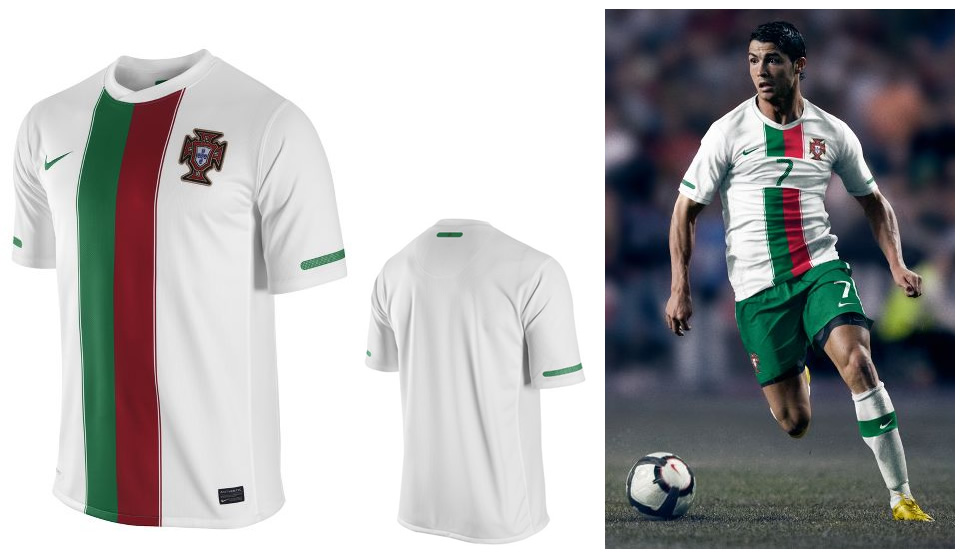 Want one? Buy the Portugal World Cup away shirt in our store.
Ah yes, the Portuguese away, an early personal favorite. It's the standard away white, but that white easily defers to the home red (or maroon) and green making a prominent appearance in the center, draped down like a royal banner in a castle hall. These two simple stripes, though outlined, are essentially the entire kit, with those green bars, Nike swoosh and Portuguese crest the mandatory additions to what would normally be a white t-shirt. No collar, no ringed sleeves, no color changes again; basic, aside for what's running right through the middle.
You have to wonder if Carlos Queiroz had any input on these kits, and if so, whether or not he might be giving something away…
---
Subscribe

International Football News – World Cup Blog RSS Feed

Share
blog comments powered by Disqus