World Cup 2010, Brought To You By "India's Enron"
January 8th, 2009 | by: Daryl |

View Comments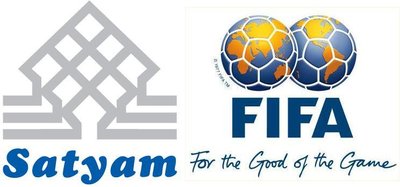 World Cups traditionally (and by "traditionally," I mean "ever since Sepp Blatter made them commercial whoreathons") have six main sponsors (which is actually extremelely silly when you think about it).
But looks like Satyam (an Indian computer company) could be about to lose their spot among the hallowed six for 2010, after a massive massive accounting fraud.
Basically Satyam has been over-reporting its worth (aka "lying") as "founder and chairman Ramalinga Raju admitted on Wednesday to inflating Satyam's reported cash and bank balances by over 50 billion rupees ($1 billion)", and earning Satyam the unwanted tag of "India's Enron".

Satyam was the first Indian company to sponsor the World Cup, and would obviously have benefited from the massive exposure of 2010. But sources are now suggesting that FIFA could be about to rethink the deal, to avoid being sponsored by a company in disrepute.
Which means a gap could be about to open up as a WC sponsor alongside Budweiser, McDonalds, Castrol, Continental and MTN. And I have an idea.
World Cup Blog should sponsor the World Cup. We might struggle to afford it (I have £1 and 22 pence on my desk here, plus one American quarter) but at least then they'd let us use the damn logo.
Subscribe

International Football News – World Cup Blog RSS Feed

Share
blog comments powered by Disqus