World Cup 2010 African Qualifying Finale: Who Will Take the Three Final Spots?
November 13th, 2009 | by: Daryl |

View Comments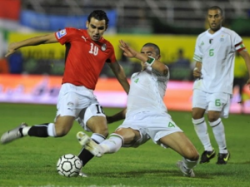 It's the World Cup 2010 qualification finale in Africa this weekend, with three spots at the big show still up for grabs. South Africa are qualified as hosts. Ghana and Cote d'Ivoire join them having already won Groups D and E respectively.
That leaves three groups undecided with just one round of games to go, and those games are this weekend. The winners of Groups A, B and C will all qualify for the African continent's first World Cup. You don't need me to tell you how important that makes these games. Three of the following six teams could still qualify:
Group A: Cameroon or Gabon
Group B: Nigeria or Tunisia
Group C: Algeria or Egypt
(click the links to read our excellent team blogs)
A little explanation after the jump, plus – as with the playoff games – we're challenging you to pick which three will qualify.
But if you're looking for drama, you might want to scroll right on down to the Egypt vs Algeria preview. Plenty to talk about there.
Since the World Cup 2010 qualifiers double as the Africa Cup of Nations (Angola 2010) qualifiers, all teams still have something to play for. Winners of the groups go to the World Cup, but second and third place qualify for the AFCoN. We'll post the list of 16 Cup of Nations qualifiers either this weekend or Monday morning. But in the meantime, let's focus on the teams aiming for World Cup 2010.
---
GROUP A:


Who can qualify?Cameroon or Gabon.
Matches:
Nov 14th: Togo vs Gabon
Nov 14th: Morocco vs Cameroon
Paul Le Guen's Cameroon just need a result equal to or better than Gabon's to qualify, and Samuel Eto'o is on fire with eight goals in qualifying. But visiting Morocco is no easy task. Gabon basically need to beat Togo and hope Cameroon slip up.
Daryl's pick: Cameroon.
GROUP B:


Who can qualify: Tunisia or Nigeria.
Matches:
Nov 14th: Mozambique vs Tunisia
Nov 14th: Kenya vs Nigeria
Nigeria simply have to beat Kenya to stand any chance of qualifying. If the Super Eagles succeed in doing so, then it's all about what Tunisia do in Mozambique. If Nigeria wins and Tunisia loses, then then the Super Eagles go to South Africa. If Nigeria wins and Tunisia draws, then Nigeria will have the better goal difference. That's what we call drama.
Daryl's pick: This is tough. Really tough. I'm struggling to imagine a 2010 World Cup without Nigeria. But Tunisia's fate is in their own hands, so I'm picking them for that reason alone.
Group C:


Who can qualify? Algeria or Egypt.
Matches:
Nov 14th: Egypt vs Algeria
Nov 14th: Rwanda vs Zambia
North African rivals Egypt and Algeria have a long history of not being very nice to each other, including the last time these two met in similar circumstances back in 1989. Egypt qualified for Italia '90 on the occasion.
This year there has already been trouble, with the Algerian team bus coming under attack from Egyptian fans, who apparently shattered the bus windows and left at least one player with facial injuries. Not cool. But here's hoping we can move beyond that and enjoy some football. Speaking of which…
The situation is as follows: Egypt need to beat Algeria by three goals to qualify. If Egypt lose, draw, or win by only one goal, then Algeria goes to the World Cup. If Egypt win by two goals then we'll have a one game playoff at a neutral location on Wednesday Novemeber 18th.
Daryl's pick: I really don't want to get in the middle of this one, but will pick Algeria, just because they go in with the advantage.
---
So my three picks are:
Cameroon
Tunisia
Algeria
Yours?
Subscribe

International Football News – World Cup Blog RSS Feed

Share
blog comments powered by Disqus