Who Got Who in the World Cup Qualifying Draw
November 25th, 2007 | by: Daryl |

View Comments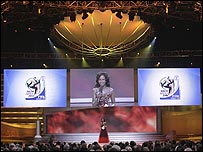 Balls emerged from pots and nations learned their fate today, when FIFA did the draw for World Cup 2010 qualifying in Durban, South Africa. European, Asian, African and CONCACAF teams found out who they'll have to face to win one of the 32 places at the finals in two and a half years time.
The results below have been lovingly cut and pasted from our sister site The Offside who in turn got it from the BBC's coverage of the draw. It may be third hand information, but it's still good.
---
Asia
Group 1: Australia, Iraq, Qatar and China.
Group 2: Oman, Thailand, Bahrain, Japan.
Group 3: North Korea, Jordan, Turkmenistan, South Korea.
Group 4: Lebanon, Singapore, Uzbekistan, Saudi Arabia.
Group 5: Syria, United Arab Emirates, Kuwait, Iran.
Worth watching: Australia vs Iraq, North Korea vs South Korea
How it works, I think: Top two from each group go through to fourth round of qualifying, where the 10 teams are drawn into two groups of five. The winners and runners up of each group qualify for World Cup 2010, while the two third placed teams playoff against each other to earn the right to playoff against (and probably beat) a team from Oceania (probably New Zealand) for a World Cup spot.
---
CONCACAF
Group 1A: USA v Dominica or Barbados
Group 1B: Guatemala v Turks and Caicos Islands or St Lucia
Group 1C: Trinidad and Tobago v Bermuda or Cayman Islands
Group 1D: Cuba v Aruba or Antigua and Barbuda
Group 2A: Mexico v Belize or St Kitts and St Nevis
Group 2B: Jamaica v Bahamas or British Virgin Islands
Group 2C: Honduras v Dominican Republic or Puerto Rica
Group 2D: Canada v St Vincent and the Grenadines
Group 3A: Costa Rica v US Virgin Islands or Grenada
Group 3B: Guyana v Suriname or Montserrat
Group 3C: Panama v El Salvador or Anguilla
Group 3D: Nicaragua v Netherlands Antilles
Worth watching: Cuba vs Aruba OR Cuba vs Antigua and Barbuda, because either way it rhymes.
How it works, I think: The 12 winners of these ties get drawn into three groups of four. The top two from each group advance to a final six team round robin. From there, the top three teams get World Cup glory, with the fourth place team facing a scary playoff against a South American team.
---
Europe
Group 1: Portugal, Sweden, Denmark, Hungary, Albania, Malta
Group 2: Greece, Israel, Switzerland, Moldova, Latvia, Luxembourg
Group 3: Czech Republic, Poland, Northern Ireland, Slovakia, Slovenia, San Marino
Group 4: Germany, Russia, Finland, Wales, Azerbaijan, Liechtenstein
Group 5: Spain, Turkey, Belgium, Bosnia-Herzegovina, Armenia, Estonia
Group 6: Croatia, England, Ukraine, Belarus, Kazakhstan, Andorra
Group 7: France, Romania, Serbia, Lithuania, Austria, Faroe Islands
Group 8: Italy, Bulgaria, Republic of Ireland, Cyprus, Georgia, Montenegro
Group 9: Holland, Scotland, Norway, FYR Macedonia, Iceland
Worth watching: Sweden vs Denmark, Croatia vs England (rematch!)
How it works, I think: The nine group winners qualify automatically. The best eight of the nine runners-up will play a tense two-legged play-off to qualify.
---
Africa
Group 1: Cameroon, Cape Verde Islands, Tanzania, Mauritius.
Group 2: Guinea, Zimbabwe, Namibia, Kenya.
Group 3: Angola, Benin, Uganda, Niger.
Group 4: Nigeria, South Africa, Equatorial Guinea, Sierra Leone.
Group 5: Ghana, Libya, Gabon, Lesotho.
Group 6: Liberia, Algeria, Senegal, Gambia.
Group 7: Ivory Coast, Mozambique, Botswana, Madagascar.
Group 8: Morocco, Rwanda, Ethiopia, Mauritania.
Group 9: Burkina Faso, Tunisia, Seychelles.
Group 10: Mali, Congo, Sudan, Chad.
Group 11: Togo, Eritrea, Zambia, Swaziland.
Group 12: Epypt, Congo DR, Malawi, Djibouti
Worth watching: Nigeria vs South Africa (confused? see below), Bigger clashes to come in next group stage.
How it works, I think: The 12 group winners and eight best runners-up go through to a second group stage, where the 20 teams are placed into five groups of four. The five group winners go to the finals. African teams have to work hard to qualify. South Africa are involved because it's doubling as the 2010 African Nations Cup, but if they don't qualify they don't have to sweat it. Must be nice.
---
If anyone's wondering what the South American teams are doing, the 10 CONMEBOL nations always play a big round-robin with the top four going to the World Cup and the fifth place side getting a playoff against a CONCACAF team. It's already on.
Oceania has four nations play on a league basis (which is also the 2008 OFC Nations Cup.) The top two teams play off against each other, the winner having to playoff against an Asian team for a World Cup spot. It's almost as if FIFA don't want on Oceania team there, hence Australia's decision to move house and go live in Asia.
---
Subscribe

International Football News – World Cup Blog RSS Feed

Share
blog comments powered by Disqus