Waka Waka – Official World Cup 2010 Song by Shakira
April 28th, 2010 | by: Daryl |

View Comments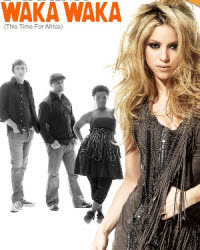 Ladies and gentlemen, say hallo to your official song of World Cup 2010. It's co-written and performed by Shakira (she of the famously honest pelvic region) and is called "Wake Waka (This Time for Africa)".
I mostly share the concerns about this song expressed by Taylor on the USA blog earlier today, in that I much prefer K'naan's "Wavin' Flag" song and am not too happy that the opening line of the official World Cup song is going to be "You're a good soldier". Not a good message.
I've nothing against Shakira. But does it seem odd to anyone else that the official song for the World Cup in South Africa will be sung by a hot Colombian lady? True, she's backed up by South African band Freshlyground, but it's very much Shakira front and center here. Enough of my grumbling. The official video for "Waka Waka" is below.
There's also a Spanish language version:
You might be thinking something like "it's actually pretty catchy", and I'd be inclined to agree. The only problem is that the catchy part – the chorus – is borrowed from the popular song "Zangaléwa" by the Cameroonian band originally known as Golden Sounds (who later changed their name to Zangaléwa because the song was so popular). The band was apparently made up of ex-Cameroonian military who were fond of dressing up and acting silly.
Apparently the lyrics are in the Fang dialect of Cameroon, and the key refrain of "zangaléwa", translates as "who sent you?" Which is at least fitting for a World Cup. Some further (but not much further) interpretation comes from the Latino music blog Guanabee:
The song, music historians say, is a criticism of black military officers who were in league with whites to oppress their own people. Or at least, some of it was. Some of it, as far was we can surmise, is gibberish.
So whether you like Shakira's version or not, at least the official song of World Cup 2010 has some African tradition to it.
Last but not least, we posted this video on our Facebook page (go there to see a lot of videos before they get posted here) earlier today, and Ian spotted something ever so slightly scary. As the faces of various fans flash across the screen towards the end, there was one face that stood out, and so Ian decided to take a freeze frame. Here's what he captured: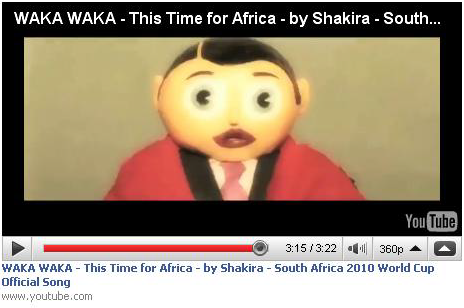 (I've definitely seen that face somewhere before, but can't place it. If anyone can help recover my memory then I'd be much obliged.)
All in all, this is one strange choice for official World Cup 2010 song, and so that image seems to sum it up quite nicely.
Subscribe

International Football News – World Cup Blog RSS Feed

Share
blog comments powered by Disqus