USA World Cup 2010 Profile
April 27th, 2010 | by: Daryl |

View Comments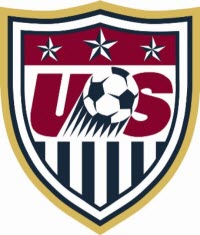 The USA have been drawn into Group C at World Cup 2010, where they'll face Algeria, Slovenia and former colonial overlords England. No prizes for guessing which game has everyone excited.
With more American players playing in Europe than ever before, this might be the most accomplished team the USA has ever sent to a World Cup. They'll be hoping this adventure is more 2002 then 2006, but whatever happens they can't do any worse than the 1998 team.


Nickname: The Yanks or The Stars and Stripes.
FIFA World Ranking as of March 31st 2010: #16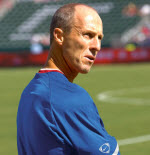 Coach: Bob Bradley replaced Bruce Arena on an interim basis after World Cup 2006, but did enough to earn the job on a permanent basis. Bradley has nearly a decade of MLS experience under his belt, but has never coached outside the US, and some fans would have preferred a bigger name to be in charge. Some still would. However, Bradley won the Gold Cup in 2007, got to the Confederations Cup final in 2009, and successfully qualified the USA for World Cup 2010. Bradley switches back and forth between 4-5-1 and 4-4-2, so we can expect to see a mixture of both deployed in South Africa.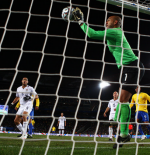 Key Players: Goalkeeper Tim Howard of Everton is difficult to fault. Big, strong, shouty, reliable and quick reflexes. You can't ask for much more. Big central defender Oguchi Onyewu signed for Milan last summer, but then picked up a knee injury. If the man is fit, then he'll be blocking shots and heading high balls away with the best of them.
Central midfielder Michael Bradley of Borussia Mönchengladbach is dangerous going forward and strong in the tackle. He's probably the only US central midfielder guaranteed to start, and not just because Bob Bradley is his dad.
The USA's creativity comes from two players. There's Fulham's Clint Dempsey, who likes a stepover, but also does things like this:

There's also Landon Donovan, who's less obviously flashy (no big tricks) but can dribble at pace, pass with intelligence and finish with confidence. The big knock against Donovan was that he couldn't cut it in Europe, but ever since a successful loan spell with Everton, that criticism is no longer valid.
Up front, it's all about Jozy Altidore. Only 20, but already on the books of Villarreal in Spain. Altidore isn't even close to being the finished product, but he's got pace, power, tricks and an eye for goal. Based on the 2009 Confederations Cup, Altidore's ideal partner is the pacy Charlie Davies of Sochaux. However, Davies involvement is in doubt as he's still recovering from a horrific car crash in October 2009.
Player with best YouTube video: Bit of a cheat, but has to be Clint Dempsey. Either for the chip above, or for "Don't Tread" below…

Player with best name: Easily Oguchi Onyewu.
Player with best nickname: It's a dead heat between Onyewu for Gooch, and Clint Dempsey for Deuce. Unless you count Tim Howard's occasional – and affectionately insulting – nickname of Timmy Tourettes.
Qualification: Qualifying from CONCACAF isn't particularly hard, but USA did so by finishing in first place, ahead of Mexico.
Interesting: If Charlie Davies makes it to World Cup 2010 after his car crash, it will be one of the great feel good stories. Doubly so if he scores.
National Anthem: The Star Spangled Banner:

Read this post to see the Marvin Gaye version (and the Roseanne one too).
Kit: Nothing official yet, but we're 99% sure it's going to look like this: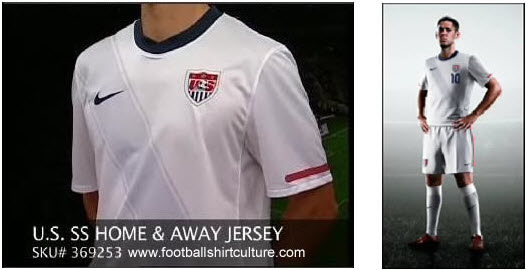 More USA home jersey images, and buy your USA jerseys here.
World Cup History:
1930 – Semi-Finals
1950 – First Round (but famous win over England)
1990 – First Round
1994 – Second Round
1998 – First Round
2002 – Quarter-Finals
2006 – First Round
Expectations: I'd suggest that USA fans are expecting the team to get out of Group C, and into the last 16.
Squad: TBA
Blog: We have multiple authors, including Jen, Melissa, Marlon, Dave, Taylor and myself on the USA World Cup Blog.
- More World Cup 2010 Team Profiles.
USA World Cup Guide
Subscribe

International Football News – World Cup Blog RSS Feed

Share
blog comments powered by Disqus