Two All-Whites could get their first caps at the World Cup
May 9th, 2010 | by: Ian Rose |

View Comments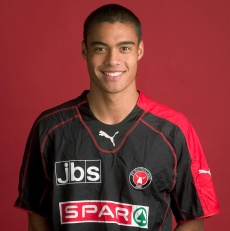 When the New Zealand World Cup squad was announced today, there was naturally plenty of excitement to go around, but for Aaron Clapham and Winston Reid (pictured), there is more than just the honor and thrill of being selected to a World Cup roster. These two players have the chance to do something extremely rare – get their first national team cap at a World Cup.
Reid is probably the better known of the two players, at least in European football circles, but we'll forgive you if you can't put a face to the name. The central defender plays his club football for FC Midtjylland in Denmark, and is a dual citizen of both New Zealand and Denmark. The Danes have played him at the U-19, U-20, and U-21 levels, but he has never earned a senior cap, and came out recently and made it clear that his senior preference was to play for the All-Whites.
Aaron Clapham is a midfielder for Canterbury United in New Zealand. Manager Ricki Herbert told TVNZ in New Zealand: "Aaron has come into this group and looked very comfortable. He is the type of player that should be around the international scene for many years and he has a big future in the professional game".
What a way to start your international career. There's no guarantee, of course, that making the squad means getting any actual time on the pitch in South Africa, but if one of these guys does step on for New Zealand, or (dare I say) if Clapham gets a chance at goal, it could be one of the storybook moments at this World Cup.
>> To follow the All-Whites through the World Cup and beyond, check out New Zealand World Cup Blog. You can also follow the blog on Twitter and Facebook.
Subscribe

International Football News – World Cup Blog RSS Feed

Share
blog comments powered by Disqus