This World Cup is Full of Cocaine
July 4th, 2010 | by: Daryl |

View Comments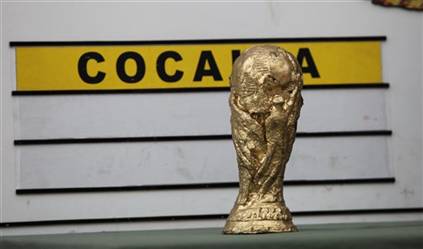 Not World Cup 2010. As far as we know, the tournament in South Africa is not full of cocaine. Diego Maradona has been clean for years and Adrian Mutu isn't even there. But the replica World Cup trophy, pictured left, is very much full of cocaine, and was recently seized by police in Bogota, Colombia.
Airports anti-drug chief Col. Jose Piedrahita says that Colombian authorities found the unusual statue during a routine security check by anti-drug agents Friday in a mail warehouse at Bogota's international airport.

The 14-inch-high statue was inside a box headed for Madrid, Spain. The statue was painted gold with green stripes on the base.

Piedrahita said Saturday that laboratory tests confirmed the cup was made of 24 pounds of cocaine mixed with acetone or gasoline to make it moldable.
Is it just me, or is that replica World Cup trophy actually quite convincing? So much so that if I was whoever made said trophy, I'd be more worried about the crackdown from FIFA's licensing police than the Colombian authorities.
Subscribe

International Football News – World Cup Blog RSS Feed

Share
blog comments powered by Disqus