The Underrated Files – Gonzalo Higuaín.
May 18th, 2010 | by: chris |

View Comments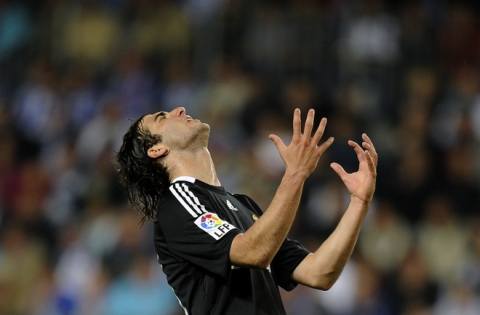 Name: Gonzalo Higuaín

Age: 22
Country: Argentina
Other country: France
Club: Real Madrid
Position: Forward

Height: 184cm

Vital stats: 8-22-27

Strengths: Finishing, pace, football ability, Gonzalo Higuain.

Weaknesses: Diego Maradona, Cristiano Ronaldo, Ramon Calderon, no one likes him.

Nickname: El Pipita (The Little Pipe)

Expectations: TBD
If Gonzalo Higuain were bought by The Florentino Perez Regime, he would be the cat's pajamas; instead, he's the dog's smoking jacket: highly productive, highly skilled and entirely underrated.
Gonzalo was born of Argentine parents in France, and thus with the birth-defect known as dualinternationaleligibilityitis, a crippling and confusing disorder which is often miraculously cured by a team of doctors in the country with the better football team. Despite calls by his papa to play for Les Bleus, Higuain chose to play for the country of his blood, Argentina.
But before that happened, Gonzalo grew up playing in Argentina; he played for River Plate, one half of Argentina's great Clasico rivalry with Boca Juniors. Before his twentieth birthday he was snapped up in a double Argie coup with Fernando "Lady" Gago by the General Calderon-led Real Madrid for €13m. At this time he was one of world football's premier talents. The first two seasons displayed moderate success before his personal Big Bang occurred in 2008-09 with 22 goals. At this point he was one of the premier players in world football, at 21.
In the summer of 2009 Florentino Perez wrastled control of the team from General Calderon's army and embarked on his second Galactico Quest, forsaking football for shirt sales; in came Cristiano Ronaldo (€€€€), Kaka (€€€€), Xabi Alonso (€€€), Karim Benzema (€€€), Raul Albiol (€€) and Alvaro Arbeloa (€). As the rumors continued to pile on, so too did the goals. Gonzalo was not, you see, a Perez buy, and this is something of a taboo at the Santiago Bernabeu; Florentino's vision must always remain supreme. Rumors of more big name signings – bigger, sexier names – and bigger shirt sales ran amok while rumors of a Higuain exit remain lurking around the corner, occasionally popping out a curious look. The goals continued to pile in, 27 at year's end, while the rumors did too – his final day was marked by ambiguity over his future. Entirely productive, entirely underrated.
Despite these goals, it took Diego Maradona – playing great, coaching buffoon – until October of 2009 to give Gonzalo his first cap, despite giving most of Argentina a free cap already and with qualification for World Cup 2010 very much up in the air. Four caps later, he has two goals, including the one in a one-nil Munich victory over Germany. That's one in two; or: a 12.6% better return rate than Maradona Himself. (Diego's moonlighting as our copy editor.) At World Cup 2010, he may or may not feature much, but was it assured is that he should. And if not, ship him to France under FIFA's new Idiocy Rule, which allows underappreciated players with alternate eligibility to explore greener pastures. Like sexual curiosity, but without horrifying flashbacks.
Gonzalo Higuain: the cat's pajamas, even if no one knows it.
|Part of our series A Casual Guide to World Cup 2010|
Subscribe

International Football News – World Cup Blog RSS Feed

Share
blog comments powered by Disqus