The Swashbuckling Spanish Twenty-Three
May 20th, 2010 | by: chris |

View Comments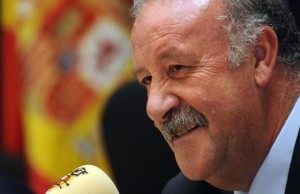 There won't be the time to do this for every single team, particularly with coaches trimming the fat like they're, well, trimming the fat, but this one's a rather big one – one half of the favored duo at the World Cup, you could even say.
Vincent Del Bosque has laid down his 23 who have the chance to firmly bury the past somewhere deep in the heart of South Africa, and though there are a few surprise omissions, all the big boys suffering from niggling injuries (or just plain injuries) – such as Cesc and Fernando – have been called up. But no one gets a cookie for that – they were always coming.

The Spanish 23::

Goalkeepers: Iker Casillas (Real Madrid), Jose Manuel Reina (Liverpool), Victor Valdes (Barcelona).

Defenders: Raul Albiol (Real Madrid), Sergio Ramos (Real Madrid), Alvaro Arbeloa (Real Madrid), Joan Capdevila (Villarreal), Gerard Pique (Barcelona), Carles Puyol (Barcelona), Carlos Marchena (Valencia).

Midfielders: Xabi Alonso (Real Madrid), Cesc Fabregas (Arsenal), Sergio Busquets (Barcelona), Xavi Hernandez (Barcelona), Andres Iniesta (Barcelona), Javier Martinez (Athletic Bilbao).
Forwards: Juan Manuel Mata (Valencia), David Silva (Valencia), David Villa (Barcelona), Jesus Navas (Sevilla), Fernando Torres (Liverpool), Pedro Rodriguez (Barcelona), Fernando Llorente (Athletic Bilbao).
First things first::

Barcelona – 8
Real Madrid – 5

So expect Florentino to try and close that gap too.
The other squads represented*: Valencia (3), Liverpool (2), Athletic Bilbao (2), Villarreal, Sevilla, Arsenal.
(* – Subject to change depending on how close you are to the speed dials of Florentino and Joan Laporta.)
Now, since all these players can do until the World Cup is look pretty on paper – and damnit do they ever – we can look at the omissions, namely one hero Del Bosque has, like Lippi, dispatched from that historic Euro 2008 win: Marcos Senna. The metronome of the midfield Xavi got the player of the tournament award, but many had him falling in behind Senna as the tournament's main man. Unfortunately for Marcos, he struggled through injury this year and simply couldn't make the leap, and at 34, the end may soon be coming for his late-blooming Spanish career.
As for the rest, all they have to do is win the whole damn thing. Piece of cake.
Subscribe

International Football News – World Cup Blog RSS Feed

Share
blog comments powered by Disqus