South Korea World Cup 2010 Profile
April 14th, 2010 | by: chris |

View Comments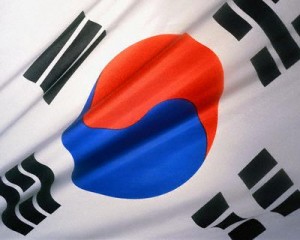 South Korea were one of the hottest teams entering the World Cup, enjoying a scorching undefeated run of 27 up and through qualifying, only to be knocked off their pedestal by Serbia in a November friendly. Another friendly against Zambia in Jo'burg saw another friendly tacked on the board, and then they fell to China in the 2010 East Asian Championships, finishing second.
They'll get to make another attempt at scorching form in the scrap that may become Group B, but may start off with a horrible lack of confidence after the Korean Federation scheduled their final friendly against…dramatic music, please…Spain.
Teams of sports psychologists must already be at the ready to either aid in boosting confidence or tempering arrogance.


Nickname: Taegeuk Jeonsa (Taegeuk Warriors)
Group: B; Argentina, Greece, Nigeria
FIFA World Ranking as of March 31st 2010: 49th
Coach: Huh Jung-Moo Huh's like Old Faithful: always destined to come back around again. He's in his sixth stint with the team in some capacity, including third as head coach, and as successful as ever with the reigning Asian Coach of the Year trophy sitting at home on the mantle. (Or in his suitcase, traveling alongside.)
But better yet, this time he'll get to renew acquaintances with Diego Maradona after their meeting as players in 1986 spawned this iconic photo: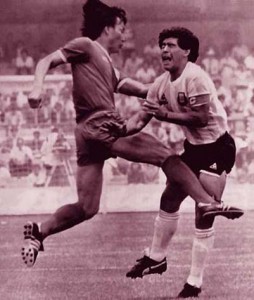 Key Players: The "name" is Park Ji-Sung, Manchester United's manmotor of an attacking mid, because, well, you already got the answer – he plays for ManU. Up top the goals start with fine wine veteran Lee Dong-Gook.
The young midfield talent comes in the form of Lee Chung-Yong (Bolton) and Ki Sung-Yong (Celtic), two of Asia's brightest bulbs at the moment. Forward Park Chu-Young was once bigger than the Beatles, so he's still looking to jump at least as high as the hype-o-meter.
Lee Young-Pyo is still going strong at leftback while enjoying the Middle Eastern sands for his club football, so he should be nice and refreshed, while Lee Woon-Jae will cut an unmistakably familiar (and short) figure in goal in his 36th year.
Player with best YouTube video: It's technically not about South Korea, but Park Ji-Sung's birthday episode from last year must be one of the greatest things to ever grace the intertubes.
Player with best name: No Bjung-Hun. The comedic possibilities for the name "No" are endless, and will surely be obnoxiously worn in these parts by the second group game should he make the squad.
Player with best nickname: Ki Sung-Yong – "David" David grew up in Australia, so there – and now here, because we say so – he goes by the name David. Growing up Down Under might also explain this:
(Wikipedia tells a different story, but our other version sounds better.)
This kid rocks.
Qualification: Asian qualification went awfully well for South Korea, going undefeated in their 14 games (7-7-0) and finishing tops of their group at both stages.
Interesting: After the Guus Hiddink pandemonium of 2002, foreign coaches were all the rage in South Korea. So when Huh Jung-Moo was named head coach in 2007, he became the first South Korean to hold the post since…Huh Jung-Moo in 2000.
National Anthem: "Aegukga", or "The Patriotic Song"
More on the South Korean anthem here.
Kit: The away kit: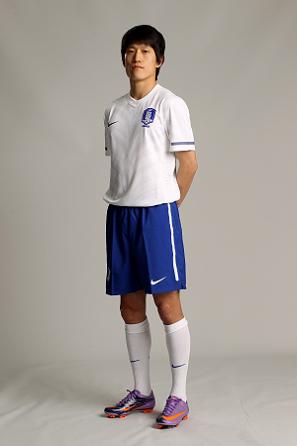 Get the South Korean shirts at our store.
World Cup History: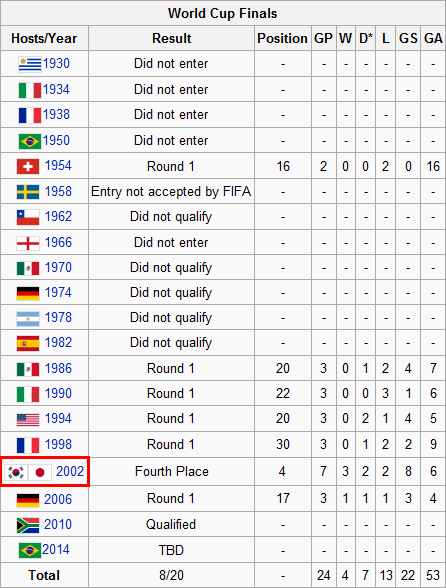 Expectations: Outside of their run at home in 2002, South Korea have fizzled in the groups every time. They should still be in the hunt for that second spot, particularly after their great qualifying run, but the fans will be prepped for the disappointment should it come.
Squad: TBA
Blog: Still looking for a captain of the South Korean ship, so if you're interested just email daryl[at]theoffside[dot]com with why you would be all sorts of fantastic.
- More World Cup 2010 Team Profiles.
Subscribe

International Football News – World Cup Blog RSS Feed

Share
blog comments powered by Disqus