Slovakia: The Born-Again World Cup Virgin
May 23rd, 2010 | by: Sarah |

View Comments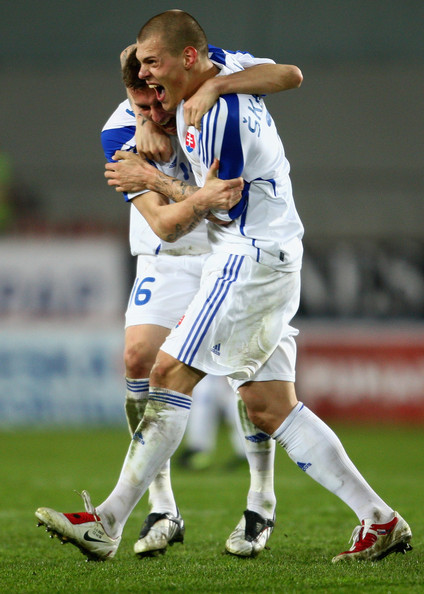 Slovkia teammates Martin Skrtel and Jan Durica celebrate after beating their former countrymen from the Czech Republic.
When Slovakia arrives in South Africa this summer, they will be the sole World Cup virgin in the tournament. Technically. For those who either failed European History or failed to keep up with current events since they took European History, Slovakia use to be part of a former European football powerhouse: Czechoslovakia (Euro: 3rd in 1980, Champions 1976, 3rd in 1960; World Cup: Quarters 1990, Final 1962, Quarters 1938, Finals 1934).
Though the countries split peacefully in 1993 in what is known as the "Velvet Divorce," they actually played together in the qualification campaign for the 1994 World Cup in a united team creatively named "Representatives of Czechs and Slovaks."  However, the team failed to qualify and after 1994 the sports teams were officially split.
The Czech Republic rebounded quickly, finishing as runner up at Euro '96. And though their results have been mixed since 1996, the Czech Republic lost their World Cup virginity at World Cup 2006 in Germany.  Ironically, though first World Cup opponent USA was technically the more experienced of the two, the Czech Republic definitely delivered the better performance and earned a 3-0 win.
While the Czech Republic, if only inconsistently, reminded the world of the their potent ability – Slovakia remained hidden in their shadow until their emergence as the top team in UEFA Group 3 of the World Cup qualifying campaign.  The group, which pitted Slovakia against their former countrymen, the Czech Republic as well as regional rivals Slovenia and Poland and Northern Ireland.  (NOTE:  Apparently San Marino was also in that group…but if you only score 1 goal, allow 47 goals against and lose every game, does that really count as participating?)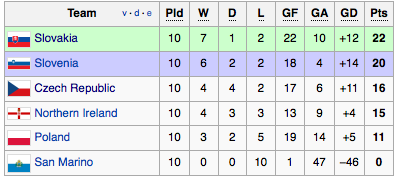 Slovakia's qualifying numbers and stats are impressive.  Though, let's be honest, the number of past conquests don't usually accurately describe the actual form and ability of the teams in question or allow you to predict how they will perform under pressure…but, when looking at their group- it seems like there is a real possibility they could make it past the initial group stage. 

After all, there are other factors to consider- pressure, injuries, fatigue, mentality, confidence etc- to detemine how they will perform when it counts.  But for World Cup virgins, one of those factors is the status of the "underdog."  The title has the power to motivate the team and place more pressure on the shoulders of the more experienced opposition.  Underdogs are easy to like since they haven't been on the big stage long enough to piss people off and they tend to be pretty respectful and lack the obnoxious cocky attitude.  Spectators that aren't explicit fans of the opposition tend to root for the underdog by default, people love a  good upset because it makes a dramatic story, Slovakia will be motivated in each World Cup match to prove themselves and, let's be honest, they don't really have anything to lose- no one expects them to win.
Slovakia also demonstrated serious perseverance during their qualification campaign- so I doubt they will be easily broken down- either mentally or physically.  The Slovakian campaign was hardly smooth- they lost twice to Slovenia and qualified as first on their final match against Poland where they triumphed 1-0.  This display of maturity and determination suggests that, despite their recently rediscovered World Cup naivete, they may have the mental conditioning to succeed this summer in Africa.  If they do so-they will join an elite group of teams that managed to make a stunning debut in their first World Cup…
Previous Successful Former World Cup Virgins
Senegal, The Vengeful Virgin:  Senegal made it to the quarterfinals at their first World Cup in 2002.  This deal was sweetened by their famous win over its former colonial holder and (at the time) current reigning World Cup Champions, France, in game 1.  Now, this revenge probably didn't heal all Senegal's colonial wounds…but it certainly helped at least for a short period of time.   For more on Senegal's 2002 World Cup journey- check out this review from Zonal Marking.
Nigeria, The Well-Coached Virgin: Nigeria qualified for the knock-out stages in the 1994 World Cup edition held in the US ahead of Argentina (the Maradona Drug Suspension Edition) and Bulgaria (the Hristo Stoichkov edition).  The "golden age" of Nigerian football was ushered in by the work of Clemens Westerhof, is not only credited with introducing Nigeria's most famous players to the world stage but also with demonstrating the potential of African football.
Ireland, The Beginners Luck Virgin: Ireland may have used up all their luck in 1990 when they landed themselves in the quarterfinal.  Their group performance consisted of three close draws  against England, Egypt and the Netherlands- which allowed them to qualify for the first knock-out round versus Romania.  Like their games at the group stage, this was a close game that came down to penalties.  In the end, Ireland's keeper produced a lucky save to put the Irish in the quarters where they eventually lost to Italy.
For more information on Slovakia and how the team is preparing for this summer, check out the Slovakia blog!
Subscribe

International Football News – World Cup Blog RSS Feed

Share
blog comments powered by Disqus