Sex and the City 2 vs World Cup 2010
May 28th, 2010 | by: Daryl |

View Comments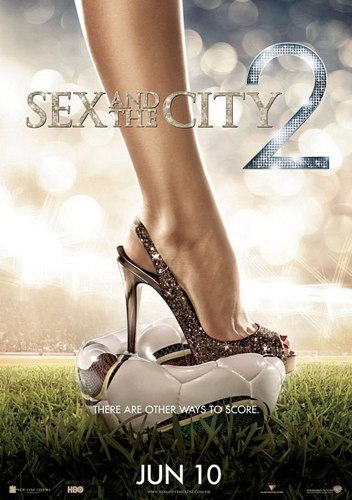 The reviews for Sex and the City 2 (Abu Dhabi Boogaloo) have been terrible. At time of writing, the movie has a score of 27 on Metacritic. Which is pretty much a disaster. So the marketing people needed something special to sell this thing.
In the UK at least, they seem to have managed it. Thanks to the World Cup. Get an eyeful of the above poster. That's a (presumably expensive) shoe piercing a football, with the tagline: "There are other ways to score." The message being pretty clear: If you want to get away from the World Cup, then come see this movie.
What I like here is the attention to detail. The ball being stepped on isn't just a generic football. OK so there's no adidas logo, and a different design (hexagonal panels) to the actual adidas Jabulani World Cup match ball, but there's still just enough of the Jabulani pattern showing to suggest that that's what we're looking at. Not that that will matter to the target audience for this ad. I just like that someone, somewhere did their homework.
Last and certainly not least, the release date. June 10th, the day before the World Cup kicks off. Hats off to whoever came up with that idea, but it's a shame that – based on the reviews – the best joke in this movie is on the poster.
Subscribe

International Football News – World Cup Blog RSS Feed

Share
blog comments powered by Disqus