Oscar Tabarez: A Man So Bold.
June 30th, 2010 | by: chris |

View Comments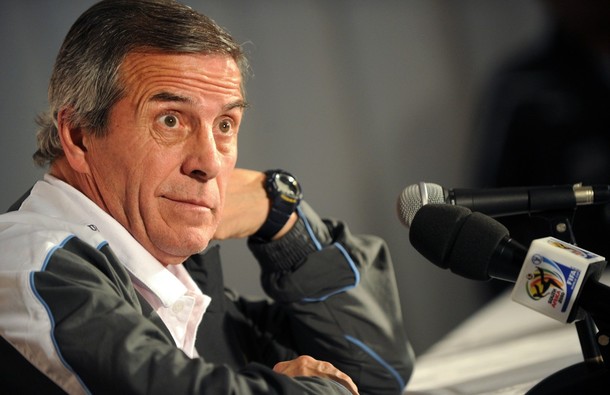 He may not garner the attention of Diego Maradona, incur the wrath like Dunga or keep the world on the edge of its seat like Loco Bielsa, but Oscar Tabarez is making a name for himself in the inane world of South American coaches.
It's largely due to the exception "start" – if you can call it that – of Uruguay, but it certainly helps that he's still throwing in his little quirk of naming the lineup days ahead of a match. Even so, you'd think he'd play his cards close to the vest for a World Cup quarterfinal.
Never. The lineup's below, and he dares Milovan Rajevac & Co. to scheme against it.

The coach, known as The Master because of his days as a schoolteacher, often names his team well before a match. Asked by reporters to do so on Wednesday, he simply shrugged his shoulders and rapidly reeled off the names.

They were Fernando Muslera, Diego Lugano, Mauricio Victorino, Jorge Fucile, Maximiliano Pereira, Diego Perez, Egidio Arevalo, Edinson Cavani, Alvaro Fernandez, Luis Suarez and Diego Forlan.
Part of the reason he's able to do this is that Uruguay is so adept at changing tactical faces on the fly the personnel is largely irrelevant. They could play four strikers – and it's close – and still run out a 5-4-1 team picture in front of Fernando Muslera. One of the most versatile teams at this World Cup, and to scheme against them means long, sleepless nights with a crack team of analysts and a minority stock in Red Bull.
That said, it's still incredibly ballsy to lay one's cards on the table and say "beat me now", whether that's only half the story or not. One could even say he's really laying his beef on the grill, and unveiling a whole lot more than his Little Diego given what's on the line.
Subscribe

International Football News – World Cup Blog RSS Feed

Share
blog comments powered by Disqus