An Octopus Recipe for Germany fans
July 8th, 2010 | by: Daryl |

View Comments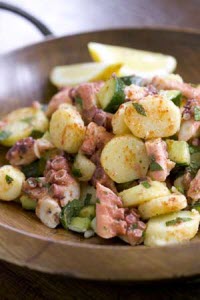 I'm not saying that Germany fans should eat Paul the psychic octopus after he picked Spain to beat Germany in the semifinal. Which Spain then won. I'm just saying they might want to. And if they do, then it may was well be in as tasty a fashion as possible.
So I clicked around the internet looking for tasty octopus recipes, and in the end found a little something that would come with a recipe for eating Paul that included a complimentary side order of irony: Spanish Braised Octopus in Paprika Sauce:
Total Time: 3 hours, 30 minutes

Ingredients:

1-2 pounds octopus
1/2 t. salt
1 t. black pepper
3 chopped garlic cloves
1 T. sweet paprika
1/2 cup olive oil
2-3 lemons
Preparation:

Braise your octopus as directed in the instructions below.

Meanwhile, put the salt, pepper, paprika and garlic in a mortar and pound it until it is a paste. Slowly add the olive oil, stirring and mashing all the while. If you don't have a mortar and pestle, you could use a food processor, but the texture will be different.

When the octopus is tender and still warm, cut into chunks, put into a large bowl and toss with the sauce. Squeeze the juice of 1 lemon into the bowl and toss to combine.

Serve warm or at room temperature with slices of lemon.
Mmmmmm.
But maybe it's not Paul's fault that he can see the future. It's definitely not Paul's fault that his keepers at the German underwater zoo aquarium keep lowering two clam filled boxes into his tank and making him choose. So maybe Germany fans should think twice before chopping those garlic cloves. Because tasty as Spanish Braised Octopus in Paprika Sauce sounds, if Paul gets eaten then what are we going to write blog posts about at Euro 2012?
…
Save Paul!
Subscribe

International Football News – World Cup Blog RSS Feed

Share
blog comments powered by Disqus