Match Review & Highlights: Netherlands 2-1 Brazil
July 2nd, 2010 | by: Daryl |

View Comments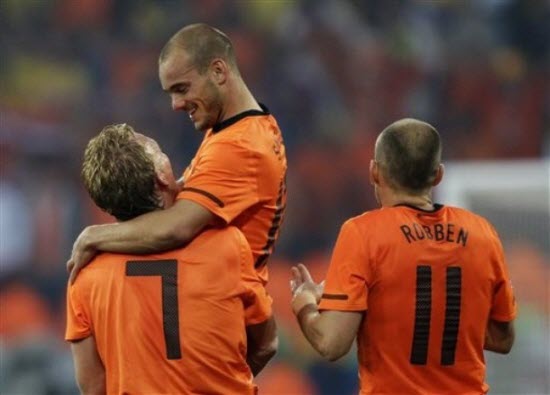 For some reason this feels like an upset. I thought I considered Netherlands and Brazil to be pretty much equals going into this game, but Netherlands 2-1 win now feels like an underdog biting one of the alpha dogs.
Maybe it's because of the way this game started. Brazil were knocking the ball about like it was 1982, and were winning 1-0 after just 10 minutes:
The Dutch defence looked hopelessly unorganized, possible a result of regular starting central defender Joris Mathijsen pulling up injured not long before kickoff, to be replaced by Andre Ooijer. But it was Ooijer's defensive partner Johnny Heitinga who had stepped forward and left a hole the size of Sepp Blatter's ego, allowing Felipe Melo to play Robinho through on goal, with Arjen Robben apparently the only Dutch player who saw what was happening.
At that point, I would have predicted a 3-0 Brazil win. In fact, I think that's exactly what would have happened if Maarten Stekelenburg hadn't made this fine save from Kaka (after great work by Robinho) at around the 30 minute mark:

Instead, Netherlands survived til halftime and then in the second half got – let's be honest – a bit lucky on this 53rd minute set piece:
Wesley Sneijder crossed it in, Andre Ooijer jumped, but it was Brazil's Felipe Melo who got the final touch, and so made it 1-1 with an own goal. Which you'd think was about as bad as it could get for Melo, but you'd be wrong.
Netherlands then took the lead in the 68th minute, with what I think's best described as a textbnook corner kick routine:
Robben crossed towards the near post, Dirk Kuyt flicked it on, and Wesley Sneijder was there to score with his head (and then remind everyone he'd scored with his head with a Benny Hill style celebration).
And then Brazil lost their cool. Too much frustration, too much shouting, and in Felipe Melo's case too much kicking Arjen Robben in the thigh:
As Melo left the field, sent off for that pretty stupid tackle, he took Brazil's confidence with him. Down to 10 men and not having as much of the ball as a trailing team needs, Brazil grumbled their way through the last 17 minutes and lost 2-1. So Brazil are out and Netherlands are through to the semi-finals to face either Uruguay or Ghana.
- Join the post-mtch celebrations/commiserations at either the Netherlands blog or the Brazil blog.

Subscribe

International Football News – World Cup Blog RSS Feed

Share
blog comments powered by Disqus