Match Review & Highlights: Ivory Coast 0-0 Portugal (or: Why Didier Drogba Should Not Have Played)
June 15th, 2010 | by: Daryl |

View Comments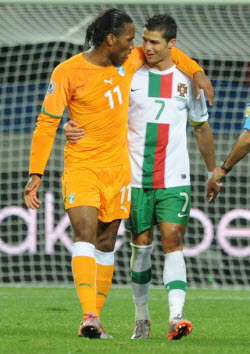 No goals here, and certainly not a game to remember. But I reject the idea that this was 90 minutes of boredom. Aside from the Didier Drogba intrigue (which we'll get to later) this was a game where neither team set our for a draw, but both Portugal and Ivory Coast enjoyed solid defensive performances. Possession was split right down the middle, but Ivory Coast will probably be happiest with their performance. Very functional, but with front trio Gervinho, Aruna Dindane and Salomon Kalou looking lively. If I didn't know any better I'd say Sven-Goran Eriksson was doing a good job.
Notice I didn't name Didier Drogba amongst the Ivory Coast forwards? Drogba fractured his forearm just over a week ago, but had apparently healed enough to be ready to face Portugal, wearing a FIFA approved cast on his arm (cleverly hidden under a long sleeved shirt, see above). Sven waited until the 66th minute to introduce the big man, and I'd argue he should have left him out altogether. Drogba clearly wasn't comfortable.

One chance fell Drogba's way towards full time, but he pretty much made a mess of it:

Drogba's shot actually went away from goal, and it's hard not to notice the way he landed on his good arm, keeping his fractured arm above ground and close to his torso. If you have to do things like that, then you shouldn't be playing. Doesn't matter how famous or influential you are. Heal more, then play.
The other famous name on the field was Portugal captain (yes he is) Cristiano Ronaldo. He didn't really produce, but hinted at what he might do early in the first half with a trademark turn and long range shot that hit the post:


Cristiano Ronald + Jabulani will = goals. But not today.
Still, decent result for both teams in a game neither could afford to lose.
Man of the Match: I'm giving it to Didier Drogbna. Not for how he played, but more because the speculation around his arm made him the most intriguing and interesting player, even when he wasn't on the pitch. Even though that's where he should have stayed.
Subscribe

International Football News – World Cup Blog RSS Feed

Share
blog comments powered by Disqus