Match Review & Highlights: Ghana 2-1 USA
June 26th, 2010 | by: Daryl |

View Comments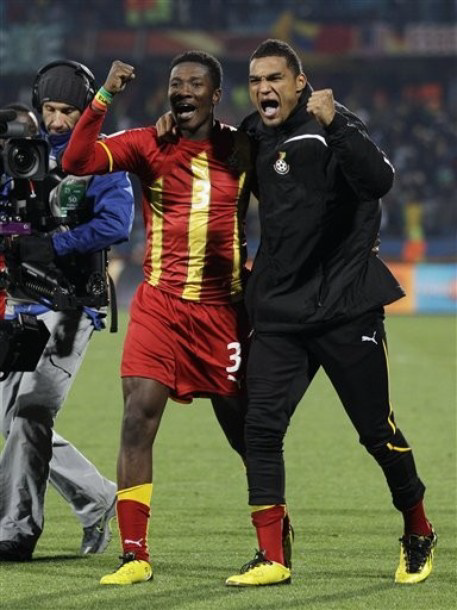 It was quite literally a game of four halves. The USA did their now standard trick of starting flat and conceding early, when Ricardo Clark (a surprise selection ahead of Maurice Edu) lost possession in midfield and Kevin Prince-Boateng capitalized by striding forward and beating goalkeeper Tim Howard at his near post with just five minutes on the clock:
Clark went on to pick up a yellow card for a tackle that might have been worth a red, which was enough to persuade Bob Bradley to basically re-pick his starting XI by sending in Edu for Clark well before halftime. Ghana were easily the better team in the first half, being first to every loose ball and just looking generally more lively and more likely to produce something.
Not sure what's been happening in the US dressing room (or should that be locker room?) during halftime in these World Cup games, but once again they came out looking a different team. Coach Bob Bradley subbed off striker Robbie Findley for extra midfielder Benny Feilhaber, and it seemed to give the US better control of the midfield and more possession of the ball.
In the 61st minute Clint Dempsey darted into the box, and was just too quick for defender Jonathan Mesah, who tripped the US midfielder. Penalty kick to the US, and Landon Donovan stepped up to equalized from the spot:
That was Donovan's third goal of the tournament, and it put the US level at 1-1. Which is how stayed until the end of 90 minutes, giving us our first extra time of World Cup 2010.
Frustratingly for USA fans, the team started extra time as they started the game. Which was badly. Dede Ayew's hopeful long ball invited Asamoah Gyan to run through the middle, where he was too strong for Rennes teammate Carlos Bocanegra, too fast for the chasing Jay DeMerit and his on-the-bounce strike too good for Tim Howard to save:
The US had 27 minutes to save the game, and no one an argue they didn't try. Cross after cross came in, and Ghana had to get bodies in the box to block several efforts at goal. Tim Howard even came up for a corner in the last minute or so, but Ghana held out to win this Round of 16 game 2-1 and move on to the quarter-finals.
- More at the Ghana blog and the USA blog.
Subscribe

International Football News – World Cup Blog RSS Feed

Share
blog comments powered by Disqus