Match Review & Highlights: England 1-0 Slovenia
June 23rd, 2010 | by: Daryl |

View Comments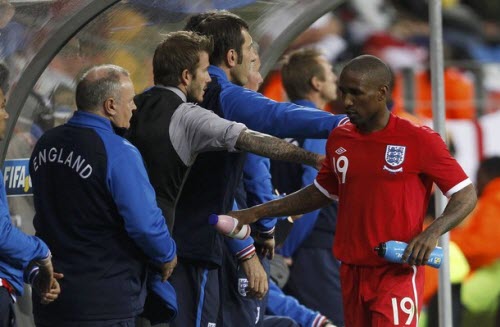 It wasn't the greatest England performance of all time, but it was night and day when compared to the struggle against Algeria. Fabio Capello changed tactics and went more 4-4-2, with James Milner wide right instead of Aaron Lennon and Jermain Defoe partnering Wayne Rooney up front instead of Emile Heskey. The result was a livelier, more Premier League style performance from England.
It paid off in the 22nd minute when Milner put a smart cross into the Sloevnian box and Jermain Defoe was lievly enough to meet it.
Milner's crossing was a constant menace. Proof that wingers don't need the pace of Aaaron Lennon or Theo Walcott if they've got good enough technique to put dangerous balls into the opposition penalty area. It was almost like having David Beckham back on England's right flank, with added tricks and a more reliable haircut.
England failed to extend their lead, despite looking capable of doing so. Rooney cleverly set up Gerrard for a shot that was saved, and Rooney also saw an impressive strike of his own hit the post after Lampard had chipped him through. They were definitely the better team, but could still have conceded an equalizer in the 68th minute when first Milivoje Novakovic and then Zlatko Dedic had shots blocked by England defenders, before Walter Birsa finally shot wide.
Highlights:
England won't have been keen to finish second to the USA in Group C, but that's how it's ended. Now they face the Group D winner, which we should know very shortly….
Subscribe

International Football News – World Cup Blog RSS Feed

Share
blog comments powered by Disqus