Match Review & Highlights: Argentina 0-4 Germany
July 3rd, 2010 | by: Daryl |

View Comments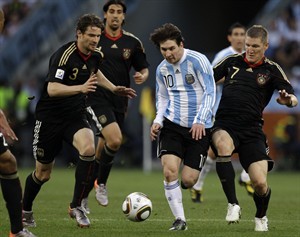 Maybe we should have seen this coming. Diego Maradona's Argentina had spent the entire tournament so far on the front foot, without facing any opposition capable of counterattacking. Germany had beaten England 4-1 in the Round of 16 doing exactly that, letting England over commit and then tearing holes through the defence on the break.
Maybe a more experienced – or more tactical – coach than Diego Maradona would have seen that game and thought about some sort of alternate gameplan. Sadly he didn't, and so Argentina went out with the same attacking lineup as in the first four games, which played right into Jogi Loew's hands.
Thomas "ball boy" Mueller scored an early early first half goal, and from there the pattern was set. Argentina attack, Germany counter with young legs and an experienced striker. Miroslav Klose got two in the second half, which gives Klose 14 total World Cup goals and puts him level with compatriot Gerd Mueller and just one goal behind Ronaldo in the all-time World Cup goalscoring stakes. Even 31 year old defender Arne Friedrich got on the scoresheet, his first ever international goal.
Argentina had their moments of nice passing and both Leo Messi and Carlos Tevez struck a few shots, but nothing that really troubled Manuel Nueur. No matter how many extra attacking talents Maradona threw into the mix – Sergio Aguero and Javier Pastore for example – the shape of the game was basically the same: Germany were solid enough (with Bastian Schweinsteiger especially impressive, supposedly playing defensive mid but appearing to be everywhere at once) to sit back and then hit Argentina on the break.
Goals:
Mueller:

Klose:

Friedrich:

Klose:

- Reactions at the Germany blog and Argentina blog
Subscribe

International Football News – World Cup Blog RSS Feed

Share
blog comments powered by Disqus