Match Report and Highlights: South Africa 1-1 Mexico
June 11th, 2010 | by: Daryl |

View Comments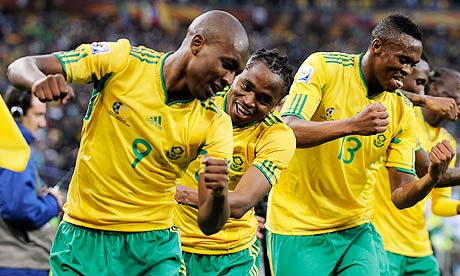 Numerous individuals took it upon themselves to declare the World Cup open today, but it didn't really begin until Mexico kicked off to begin the opening game of World Cup 2010 against hosts South Africa. Ninety minutes (plus halftime and stoppage time) later it finished 1-1. South Africa might be disappointed after taking a 55th minute lead though the excellently named Siphiwe Tshabalala, only to let Mexico captain Rafa Marquez equalize in the 79th. But still. With all the talk about South Africa being the first host nation not to get out of the group, a 1-1 draw against Mexico is a damn good result.
Before we see the goals, let's look at the controversy. Or the non-controversy as it turned out. Let's call it the non-troversy:

Carlos Vela had the ball in the net in the 40th minute, only to see it disallowed for offside. Confusion briefly reigned, because there was a Mexican defender on the goal-line. How can you be offside when you have a defender on the goal-line? When you're behind the keeper, that's when. To be onside, the attacker has to have two opposition players between himself and the goal. See this FIFA flash illustration. The two opposition players usually means one defender plus the keeper, but when the keeper advances beyond you, having one defender between you and the goal is not enough.
Two things I'd say: First, excellent work from the linesman and referee. They got it 100% right. Respect. Two, I think I'd change that rule if it was up to me. Why not say you just need one defender between attacker and goal to be onside, and simply exclude the keeper from the equation? If anyone knows why, please share.
South Africa looked tense first half, especially early on. Mexico weren't too settled either, but young Gio dos Santos looked promising. It was pointed out in the LiveBlog that watching Gio is a little like watching a young Ronaldinho, the way he moves and the way he dribbles. Gio dos Santos didn't score today, but he'll score at least one brilliant goal between now and the end of the World Cup.
Speaking of which… Siphiwe Tshabalala's opener for South Africa was a beauty. Both his shot, and the raabit punch passing that created it. Take a look:

That ball from Kagisho Dikgacoi split the Mexico defence wide open, which they'd sort of been asking for all game, and continued to ask for until the end of the match. Brilliant finish from Tshabalala on his 50th Bafana Bafana appearance though, and excellent dance too.
Two of Mexico's subs, Cuauhtemoc Blanco and Andres Guadardo combined to cross for Rafa Marquez to equalize in the 79th:

South Africa captain Aaron Mokoena will surely be annoyed with himself for failing to push out with his teammates and catch Marquez offside, but Mexico's captain took full advantage and scuffed the ball home.
It wasn't over though. Katlego Mphela found himself through on goal with full time approaching but could only hit the post and watch in despair as the ball boucned back beyond him in the opposite direction. So a superb result for South Africa, but one that could have been even better had Mokoena remembered about the offside rule or Mphela been a little cooler when his big moment came.
Man of the Match: South Africa keeper Itumeleng Khune who made more than one excellent save.
Photo: AP
Subscribe

International Football News – World Cup Blog RSS Feed

Share
blog comments powered by Disqus