Larissa Riquelme to Run Naked Through Asuncion Anyway, Just Because
July 7th, 2010 | by: Daryl |

View Comments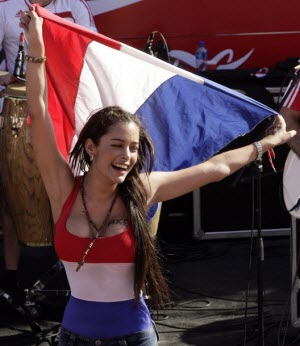 Remember how enthusiastic Paraguayan lingerie model Larissa Riquelme had promised to run naked through the streets of Asuncion if Paraguay won the World Cup? Well Riquelme's not going to let a little thing like Paraguay losing to Spain in the quarter-finals ruin her 15 minutes of global fame, because now she's going to do it anyway.
"It will be a present to all of the players, and for all the people in Paraguay to enjoy," she said. "They tried as hard as possible and gave it their all on the field."
First, I can't help feeling like Larissa Riquelme is cheating a bit here. I quite liked the promise of a lingerie model running around naked should something unlikely (Paraguay winning World Cup) happen, but Riquelme doing it anyway now Paraguay are out seems a bit depressing and attention hungry. That won't stop me searching the internet for photo and video, but I'll be doing so a little less enthusiastically.
Couple of layers of silver lining here. First, let's all be relieved that Diego Maradona hasn't decided on the same course of action. The naked El Diego sprint through Buenos Aries will not be happening (except in cartoon form). Second, there is a woman out there who's even more hungry for attention than Larissa Riquelme, and that woman's name is porn star Bobbi Eden, who has promised oral sex (that's the polite way of saying it) to all her 23,000 Twitter followers should the Netherlands win the Wold Cup.
Subscribe

International Football News – World Cup Blog RSS Feed

Share
blog comments powered by Disqus