Kulula vs FIFA, Round Two: "Not Next Year, Not Last Year, But Somewhere In Between"
March 22nd, 2010 | by: Daryl |

View Comments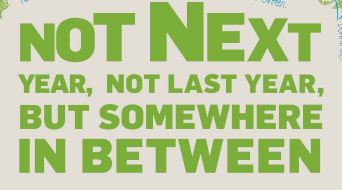 We already knew the people at South African budget airline Kulula.com were both cheeky and hilarious. Their World Cup 2010 related Unofficial National Carrier of the You-Know-What advertisement irritated FIFA enough to provoke some legal action, because you can only mention the you-know-what (even without naming it) if you deliver a big sack of money to FIFA HQ. But Kulula weren't finished there. Because this past weekend they printed a follow up ad in the Sunday Times, making (even more of) a mockery of FIFA's licensing laws. Their new slogan is "Not Next Year, Not Last Year, But Somewhere In Between". Also in the smaller print: "there are so many more exciting reasons to travel around our country this year, than just for that thing we wouldn't dare mention."
The ad is packed with images that definitely don't reference the World Cup or 2010 or South Africa. For example, the object at the top of the page might look like a vuvuzela, but we are assured in the text that it is: "definitely, definitely a golf tee." There's the man who appears to be playing soccer, but is actually "putting his right foot in, his right foot out" and doing the Hokey Cokey. Which FIFA do not own. There even appears to be a South African flag (another symbol of the World Cup), except, the ad claims, it may actually be just a brightly coloured beach towel. But enough description, take a look for yourself: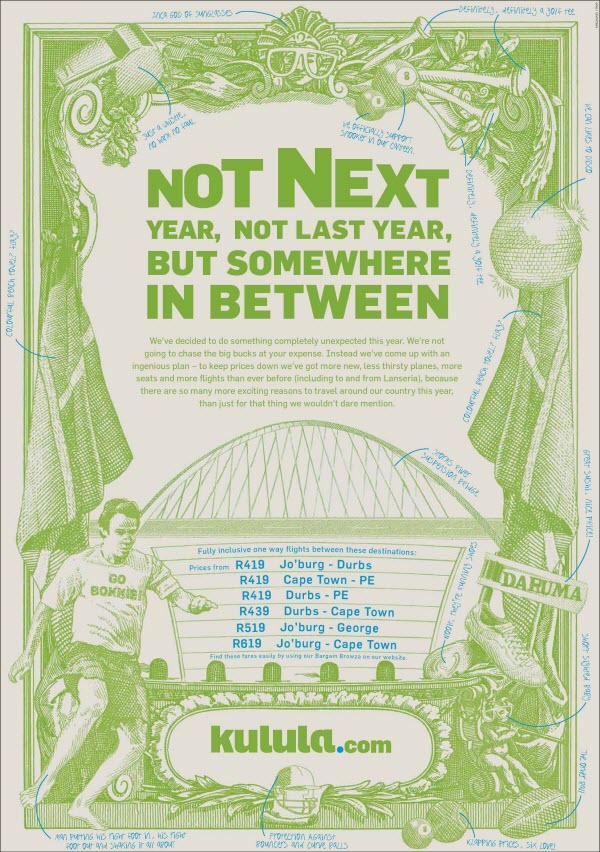 Image via: MarkLives!
Rather than pointing out every little detail, I'll leave you to enjoy finding the rest of the not at all World Cup related jokes. I'll add only this. There's a short-sighted baby in there, and there are no prizes for guessing which organization that represents.
Is Kulula playing with fire here? Almost certainly, and if FIFA decided to pursue this ad in the courts, then the budget airline could be in a world of pain. But it's still fantastic that a satirical mirror is being held up the tyrannical silliness that is FIFA's licensing laws, and long overdue. Here's hoping they don't like what they see.
Subscribe

International Football News – World Cup Blog RSS Feed

Share
blog comments powered by Disqus