Jong Tae-Se Is Coming To Europe
July 7th, 2010 | by: chris |

View Comments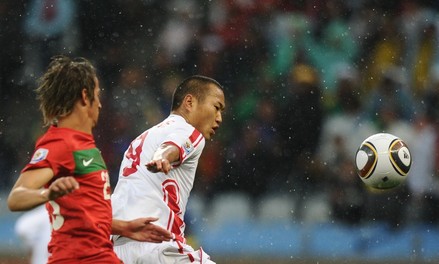 The man who took the world by storm in telling the world he would score against all teams in the Group O'Death and staggered them twice with his brazen show of patriotism by blubbering during the national anthem has done what so many do this time every four years: parlayed the World Cup into a European contract. Only it may not be what you may think.
Jong's signed for Bochum in the Bundesliga. Excuse that – just relegated Bochum, which means one of the stars of Asian football and someone very, very skilled will be plying his trade in the second division, Bundesliga.2, next year. Not exactly the lotto everyone expects come World Cup time.

(And before anyone gets to it: Jong played – for Kawasaki Frontale – and lived (or lives) in Japan, so he clearly had access to the internet to know that Bochum will not be in the Bundesliga.2 next year.)
Jong's also setting his goals more modestly nowadays.

"I was gutted when I could not score any goal at the World Cup," the 26-year-old told reporters at Tokyo's Narita airport. "I want to vent my frustration in Germany. My target is to score 10 goals a year."

"My dream is the (English) Premier League," said Jong, who was born in Japan and played for J-League Kawasaki Frontale after graduating from an ethnic Korean university in Tokyo in 2006.

"I won't restrain myself just because I am an Asian. I will be assertive both in private life and on the pitch," he said. "I want to help bring the team back to the first division with confidence."
To be fair, acclimating yourself to a new continent/league/style of play in the second division is a smart move for many players, but Jong is simply a better player than that.
I'm a big fan of the "thanks for having me but I'm already planning my next move" arrivals of new transfer signees. Or even better, the "thanks for buying me and reportedly making me the highest paid player in the league but I'm going back to my old club first chance I get" – recently perfected by Yaya Toure.
But regardless: Jong is coming to a European league near you. Maybe in 2011, when Bochum get promoted. So get your kleenex ready.
Subscribe

International Football News – World Cup Blog RSS Feed

Share
blog comments powered by Disqus