John Terry Stripped of England Captaincy
February 5th, 2010 | by: Daryl |

View Comments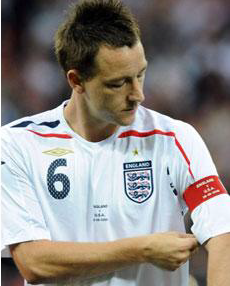 John Terry will not be England captain at the 2010 World Cup. Simple as that. Fabio Capello flew back from Italy to make a decision following the revelation of Terry's alleged affair with Wayne Bridge's ex-girlfriend, sat down with Terry, and told him the bad news. Unlike John Harkes though, John Terry will remain in the England team. He'll play at World Cup 2010. He just won't have an armband around his bicep. He might even be relieved to get out of all the PR activities a World Cup bound England captain is obliged to do.
The English media and bookies were probably hoping for a few days of "Who will be the new captain?" speculation, but Capello has cleverly robbed them of that chance by pointing out that he already named Rio Ferdinand vice-captain and Steven Gerrard as third-choice-captain (vice-vice-captain?) and so it's a simple case of both men stepping one rung up the ladder.
Capello's statement released on the FA website is below:
"After much thought, I have made the decision that it will be best for me to take the captaincy away from John Terry.

"As a captain with the team, John Terry has displayed extremely positive behaviour. However, I have to take into account other considerations and what is best for all of the England squad.

"What is best for all of the England team has inspired my choice.

"John Terry was notified first.

"When I chose John Terry as captain, I also selected a vice-captain and also named a third choice. There is no reason to change this decision.

"I would like to take this opportunity to thank The FA, particularly Lord David Triesman and Ian Watmore for allowing me to make this decision in my own time and in the best interest of the team."
Obviously this whole thing has been a tawdry mess, and doesn't do English football any favours. I'm not even sure they should be allowed to wear all-white at the World Cup now. But credit to both the FA for staying out of it, and to Fabio Capello for being stone cold decisive and leaving very few loose ends. I'm almost tempted to say the whole thing is done and dusted, but we're yet to see how John Terry reacts, how the England team reacts, and – most gossipy of all – whether Wayne Bridge makes the England World Cup squad.
- More on England at England World Cup Blog
Subscribe

International Football News – World Cup Blog RSS Feed

Share
blog comments powered by Disqus