Ivory Coast World Cup Team Profile
May 12th, 2010 | by: chris |

View Comments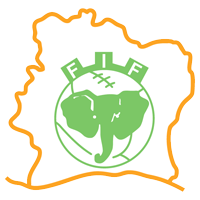 Well here they are, Africa's great hope. Widely billed as the continent's most gifted, deepest team, if any country is to do the unthinkable and bring Africa its first trophy, the good money has been on Cote d'Ivoire, who sometimes moonlight as the Ivory Coast.
And if that unthinkable does ultimately come, the miracles won't end at geographical location – their coach will have to do so with precisely zero official games running the team before the tournament (and only two friendlies scheduled). But that coach is Sven-Goran Eriksson, who's coached a few other games in his career, so while he may have to ask just who is that big guy with Drogba spilled across the back, he won't be a complete virgin going in – that much is well-documented.
They'll also have to do it coming out of what some call this year's Group O'Death, a trial by fire which might just serve to spur them on into the later rounds. Or see the whole thing go kerplunk from the outset.


Nickname: Les Elephants
FIFA World Ranking as of April 28th 2010: 27th
Group G Matches:
15 June 2010, 4p
Ivory Coast v. Portugal in Port Elizabeth
20 June 2010, 8:30p
Brazil v. Ivory Coast in Johannesburg
25 June 2010, 4p
North Korea v. Ivory Coast in Nelspruit
Buy Ivory Coast World Cup tickets.
Kit: The Ivorian orange full with angry elephant.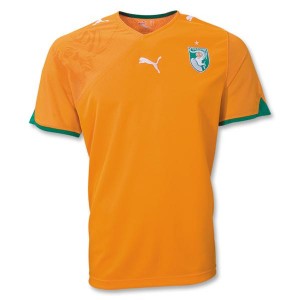 More on the Ivory Coast kit here.
Coach: Sven-Goran Eriksson. The world knows who he is and with good reason – his early career included trophy after trophy. Of late, however, he's been something of a disaster, negotiating a new contract while still under contract in England before the '06 WC, spending one rather uneventful year at Man City B.O.M. (Before Oil Money), doing his damndest to run Mexico into the ground before being canned to national applause within a year and then signing on to direct a fourth tier English club with "big money backers" when they actually didn't. So while the old Sven has the CV to get it done, all recent Sven has going for him is a puppet doppelganger which spent five minutes a week taking abuse from the puppet likeness of Jose Mourinho.
And now he has to make his official debut as the Ivory Coast coach in South Africa under criticisms of a disproportionately "heavy" paycheck. The man refuses to do anything quietly.
Key Players: The man, the myth, the legend Didier Drogba is the best striker in the world when he's hot – well and truly unstoppable. His Chelsea frontline teammate Salomon Kalou is quite good himself even if he tried and failed to play for the Netherlands in '06 (long forgotten). It's difficult to imagine what Sven will do with only one friendly before the tournament, but Seydou Doumbia has been making European waves and scoring goals aplenty in Switzerland with Arouna Dindane still hanging around. Wingers Kader Keita and Gervinho are awfully skilled and awfully quick too, meaning they're likely to play a big enough part.
The midfield is very strong with the Spanish-based duo of the all legs Yaya Toure and Didier Zokora, who's never seen anything he didn't want to tackle. Also in the mix will be Cheik Tiote, Romaric and Gilles Yapi Yapo.
And perhaps where the Ivory Coast's quality and depth shines through is in the back, where there's no let down. So many African teams have a weak spot, but they do seem to be a proper team with Kolo Toure, Sol Bamba, Arthur Boka and Emmanuel Eboue, with Guy Demel filling in the holes. The only real weakness is the Ivory Coast's man between the sticks, old hand Boubacar Barry.
Player with best YouTube video: Didier Drogba's good at football.
Player with best name: Gilles Yapi Yapo. Say Yapi Yapi five times really fast.
Player with best nickname: Gervinho. He's not Brazilian, and yet it's perfectly accepted as his "name".
That's when you know you're good. Julio Baptista can't even get a Brazilian nickname and he's Brazilian.
Qualification: A bit of growing pains in the first group, but they laid waste to the field in the second, and more difficult, group: 5-1-0, 19, 4, +15.
Interesting: They hold a record which will require some work to keep up: as it stands they are the only World Cup team ever to have scored in every game in which they have participated. Granted it's only three, but that's just details.
National Anthem: L'Abidjanaise (Song of Abidjan)
World Cup History: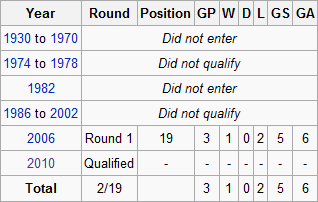 Expectations: Were the tournament not being held in Africa, expectations might be tempered a bit after their disappointing showing at the African Cup of Nations. However, it is in Africa and as Africa's best team they'll be expected to perform in a tournament which can feel as belonging to the whole continent rather than solely South Africa. Therefore a war for second with Portugal – most expect Brazil to take the group – is a start which hopefully enable them to spread their wings in the knockouts. In fact that match against Portugal, the first in the group, may just decide their fate.
Squad: Ivory Coast World Cup squad.
Blog: Elliot stimulates the masses at the Ivory Coast WCB.
- More World Cup 2010 Team Profiles.
Subscribe

International Football News – World Cup Blog RSS Feed

Share
blog comments powered by Disqus