Injured Michael Ballack Will Miss World Cup 2010
May 17th, 2010 | by: Daryl |

View Comments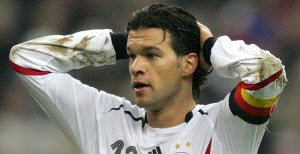 Another one bites the dust. An MRI scan on Michael Ballack's ankle – injured in the FA Cup Final win on Saturday – has revealed ligament damage, which means no World Cup 2010 for the 33 year old Germany captain. And he's not happy: "It's very disappointing, but I have to accept it," said Ballack. "It's football and you have to live with it… I am angry, clearly." I feel bad for Ballack, and bad for Germany fans because their team is losing such a big player. But I'd love to have seen the face Ballack was pulling when he said "I am angry, clearly."
Germany coach Jogi Löw isn't happy either, but is doing his best to pull a big boy face:
"We are shocked, no question about it, and we are all very, very sad," Löw said at the team's training camp in Sicily. "He is a very important player for us, a world class player who played a very important role in decisive games for us. There can be no question of resignation now. We are sure we can still play a good tournament."
Kevin Prince-Boateng is the man to blame. The Portsmouth midfielder caught Ballack late with a decisively unfriendly tackle in the cup final. Here's video of the tackle that took Michael Ballack out of World Cup 2010:
Quote from Ballack after the game: "I have seen [the tackle] on TV and to say it was not on purpose means you have to be a friend of Boateng." No arguments here Michael.
The irony here isn't just that Kevin-Prince Boateng will potentially play for Ghana at World Cup 2010, or that Ghana will face a now Ballack-less Germany in Group D. The big irony is that K-P Boateng was born in Germany, just like younger brother Jérôme Boateng, who is actually in the Germany squad for World Cup 2010. It's as if this incident is K-P underlining his commitment to the Ghanaian team, just in case there was any doubt, while also adding an extra dimension to the brother vs brother battle that could happen if K-P meets Jérôme on June 23rd.
Subscribe

International Football News – World Cup Blog RSS Feed

Share
blog comments powered by Disqus