2010 World Cup Curse: Who broke out the voodoo doll?
June 5th, 2010 | by: Sarah |

View Comments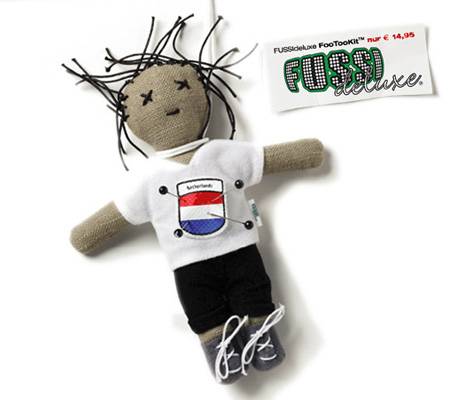 Who is playing Voodoo on the World Cup's stars?
While rumors of looming disaster in South Africa have been swirling around for a few years, rumors of the World Cup being cursed are running amok in both the blogosphere and in twitterland as the sport's biggest stars are dropping like flies before the tournament has even begun!  The alleged cause of the bad luck ranges from an Irish-hex to a fashion disaster with unexpected consequences.  So, dear readers, which theory (or theories) do you subscribe to? Options below the jump…

Several players who recently received some very dissapointing news  took part in a photospread in Vanity Fair.  Brazil's Alexandro Pato didn't even make the final squad, Drogba fractured his elbow and is likely out of  the World Cup and Muntari was rumored to have gone AWOL for a few hours recently.  The shoot – a clear fashion disaster (Landon Donovan was wearing underwear ON HIS HEAD, need I say more?)- appears to have been a disastrous choice for their careers as well.  (Credit to Laurie from Seattle Offside for this one!)
Or perhaps, its not just the Vanity Fair shoot, but all players who dared to become a covermodel for the tournament.  ESPN's latest cover featured Giuseppe Rossi…who failed to make the Italian team last week.

So if the World Cup is cursed, what (or who) do you think is to blame?  And what's Pirlo's excuse?
Subscribe

International Football News – World Cup Blog RSS Feed

Share
blog comments powered by Disqus