'Ghana Will Win The World Cup': The Festival Of Bold Predictions
May 27th, 2010 | by: chris |

View Comments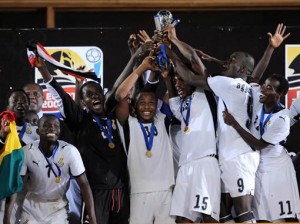 Ah, the wind-filled sails of patriotism, hope and World Cup fever. They inspire many things, like bold proclamations, regret and public humility – traditionally in that order. Takeshi Okada has learned first hand, and has become something of a whipping boy for the World Cup – with no one flogging harder than the Japanese – provided the complete mental block of Diego Maradona has begun. He still won't back down from his statement Japan will make the top four even though FIFA have them barely out of the bottom four.
Succumbing to the same airborne wave of confidence, North Korean coach Kim Jong-Hun has declared his squad of question marks will make it to the knockouts despite being the 'Death' in the Group O'Death.
Not to be out done, Ghana president John Atta Mills has declared Ghana will win the World Cup. Why even bother with the games?

Fortunately, we know politicians aren't the go-to men for our sports information, largely because they're more focused on far more important matters. Or pretending more important matters will just go away by themselves (that'd be my platform). Whichever works.
So when they weigh in, it's with a chuckle and a "you're so silly". Yet we aren't the players, and hearing "you will win" from the president carries a different tone. So no pressure on Ghana in The Other Group O'Death.

"We will win the World Cup because God is on our side and I'm sure we've made the necessary preparations. I have no doubt that they will make all of us proud in South Africa," the President said at last Saturday's send-off Presidential Lunch with the national team at the Castle, Osu.
Will Ghana win? Probably not, even though that'd be genuinely fantastic. Will Japan make it to the semifinals? Not bloody likely. Will North Korea be good enough to make it past Brazil, Portugal and/or the Ivory Coast? Well…we don't know. (No.)
But it does bring up an interesting question: Which is the most likely?
I say North Korea's 5-4-1 pulling a Greece – what say you?
Subscribe

International Football News – World Cup Blog RSS Feed

Share
blog comments powered by Disqus