Germans Sing It Better In South Park
May 18th, 2010 | by: chris |

View Comments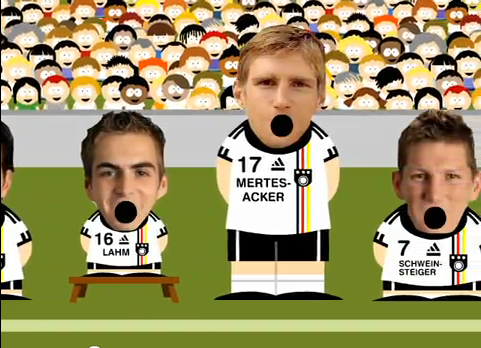 We're going to hit with some pretty sweet songs between now and the opening days of the World Cup; we're also going to be violated with some pretty horrible music. I've been beat over the head with so much Korean pop in the last few days my sense of good taste is threatening a divorce (do note Korean can be easily removed from that).
This song, this brilliant little a capella song from the German group Basta, trumps them all, if only for the hilarity of its South Park-style video.

The song is called Gimme Hope Joachim, and it's fantastisch. It's so good we should put down the Shakira-K'naan debate and instantly name this the official song of World Cup 2010, damn the slight German tinge and less than flattering stereotypical views on some countries.
The video is a stroke of landmark film making, particularly the Greek bit and Schweinski, even if the graphics are a touch basic.
101 Great Goals has provided the translated lyrics.
The Portuguese have the best players; The Brazilians are pretty fast; The Spaniards have not lost three years; But we have the most beautiful hotel.

The Ronaldinho has the best technique; Ronaldo has the best physic; David Beckham has a foot of steel; But Jogi Löw has the most beautiful hairdo.

Gimme hope, Joachim gimme, hope, Joachim!; Gimme hope, Joachim, for the World Cup!; Gimme hope, Joachim gimme, hope, Joachim!; Hope for South Africa …

The Koreans have nimble legs; The Mexicans have a hard shot; The French have a good man in goal; But we have the largest bus …

The Danes strengthen with the protein; The Serbs toil half dead; The Argentinians torture in the jungle camp; But Jogi smears Nutella on his bread …

Gimme hope, Joachim gimme, hope, Joachim!; Gimme hope, Joachim, for the World Cup!; Gimme hope, Joachim gimme, hope, Joachim!; Hope for South Africa …

The Greeks are once again tip; And Switzerland wins outnumbered; The Dutchmen are back with it; But still brings us Jogi 'Cup …
For more tunes, check out our guide to World Cup songs
>> Supporting Germany in the World Cup? Put on your Germany jersey, get your Germany World Cup tickets, and get to the stadium! If you're watching from home, keep up to date with Germany World Cup Blog, and follow us on Twitter and Facebook
Subscribe

International Football News – World Cup Blog RSS Feed

Share
blog comments powered by Disqus