France To Boot Anelka From South Africa
June 19th, 2010 | by: chris |

View Comments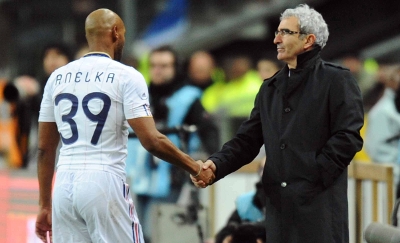 The soap opera that is the French national team will not stop churning. After the revelation that Yoann Gourcuff is a hermit and no one likes him, we now have the post-Mexico fallout.
Niclas Anelka was taken off at the half. Most probably assumed it's because he's rubbish for France, and he is, but apparently there's a bit more back story. Like he called Domenech a few mean names in the dressing room at halftime, becoming a French national hero in the process.
Small bit about a premature ticket back home too.

The Chelsea forward, who has now not recorded a shot on target in 429 consecutive minutes' play for Les Bleus, was apparently criticised by Domenech for straying out of position during a goalless first half.

According to French sports newspaper L'Equipe Anelka exploded in rage in the dressing room, verbally abusing the coach. He is reported to have said, "Go fuck yourself you son of a whore."
The brilliant thing would've been for Domenech to headbutt Anelka. Alas, the narrative is destroyed,
But this may be the only time Domenech has been right in the last four years. When did Nicolas Anelka up and decide he's a holding midfielder? Did a good bit of the same at Chelsea as well, but France ain't quite Chelsea.
And the kicker will be he's likely going home:

French Football Federation vice-president Christian Teinturier believes if there is any basis to the reports about Anelka then he should be sent home from the tournament immediately.

"If the words we have just heard have been used, he has nothing to do there [at the World Cup]," Teinturier told France Info radio.

Reports in France suggest a disciplinary hearing has been convened by France Football Federation officials this afternoon.

Canal+ claim Anelka will be sent home from South Africa tomorrow.
Insulting Dom's mother is a crime to be sure, but he should be sent home for tactical disarray first and foremost. That's just unacceptable.
Subscribe

International Football News – World Cup Blog RSS Feed

Share
blog comments powered by Disqus