France, Thierry Henry & The New Calciopoli
April 22nd, 2010 | by: chris |

View Comments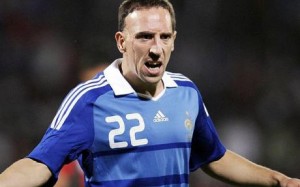 All the way back in 2006, there was this thing they called "Calciopoli" whipping up into a furor on the peninsula. It was an enormous distraction, one fraught with harsh accusations against the very core of Italian football, and left the club futures of many in the Italian team hanging in the balance. The players had far more on their plates than merely the biggest football games of their lives.
Four years later it feels like it's just begun, probably because it has (at the request of Marcello Lippi), and the black eye it left on Italy still hasn't gone away. But strangely enough, Calciopoli wasn't all bad: it's widely held as the scandal which won Italy the World Cup.
A silver lining quickly turned into gold.

And this is where France comes in. Right now there is another scandal whipping into a similar lather involving French football – or at least players involved with Les Bleus. Four players have been accused of hiring a 17yo prostitute for services a prostitute typically provides. (Cheese sandwiches, car washes, bonsai tree trimming, etc.) One of those players happens to be France's best, Franck Ribery, and right now he's at least in heaps of trouble with the wife, perhaps the legal system later on. The Guardian:
The scandal engulfing Les Bleus, which began when Ribéry was questioned by police in connection with a prostitution ring, also deepened after judicial sources said the 27-year-old had admitted having sex with a 17-year-old prostitute but denied having known she was underage. In France it is illegal to buy sex from someone under 18.
The others linked with the case – Karim Benzema, Hatem Ben-Arfa and Sidney Govou – don't carry quite the same weight of Ribery, but all are a part of the French setup and thus associated.
This, combined with Henry's handball and the lasting image of Zidane in Germany, could, in some strange way, help Les Bleus. France, though they do have the benefit of timing and this could all be cleared up by June 11th, are going to be seen as a villain by many, much like Italy in 2006.
The Azzurri were famously unified by Calciopoli in 2006, playing not only for themselves, but playing against the criticisms of Italian football. It, along with the suicide attempt by Gianluca Pessotto, made them a quintessential team, rather than a collection of eleven national team members, and in the process Canna & Co. rode the country's great scandal to international glory.
There is going to be an awful lot of criticism about France this summer, be it about the methods of their invitation or the current scandal which is only gaining steam as more leaks snake into the press. And in the midst of the smoke, it'd be an absolute stroke to embrace this "new Calciopoli" – in stark contrast to the actual new Calciopoli – as their once in a lifetime silver lining.
It may sound strange, surely terribly, horribly wrong, and it's highly advised you don't use it out of context, but Thierry Henry and a 17 year old hooker might be France's best chance to win the World Cup.
Subscribe

International Football News – World Cup Blog RSS Feed

Share
blog comments powered by Disqus