FIFA's World Cup 2010 Technical Report is 289 Pages of Fluff
September 2nd, 2010 | by: Daryl |

Comments Off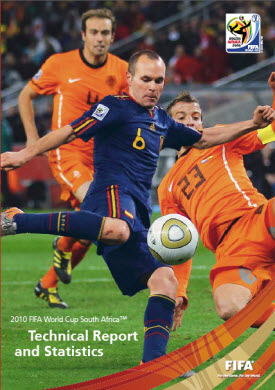 FIFA has released its World Cup 2010 Technical Report in the form of a 9.28 megabyte pdf document. Which might sound impressive, but only if you haven't read it. Because this thing is 289 pages of fluff, in four different languages.
The document basically contains a lot of pictures, a lot of over-simplifications, and a lot of glossing over hard truths. In the "Story of the Tournament" section for example, Frank Lampard's inexplicably unawarded goal for England vs Germany in the Second Round is related thusly: "They thought they had equalised but the goal was not given." I know small children who could give a more detailed retelling of that event. No wonder FIFA have snuck this out the day before Euro qualifying begins, when we're all focused on the next tournament and no longer care as much about the last one.
At least FIFA's famed Technical Study Group were able to offer some valuable insights in the "Technical and Tactical Analysis" section though, right? Wrong. Instead we get gems like "The most successful teams also boasted fast, tricky attackers who were dangerous in front of goal." Imagine that.
But by far the most worrying thing in the document is FIFA's penchant for self-glorification. The first thing pointed out in the "Trends" chapter is:
Thanks to FIFA's development programmes, which were launched by then FIFA Technical Director Joseph S. Blatter in 1975 before being expanded upon by the confederations and associations, there are no longer any "small" or "weak" national teams.
The adidas Jabulani matchball is not mentioned, despite being an obvious contributory factor to several events, including about half of Diego Forlan's goals, and the "Refereeing Report" basically praises the physical conditioning and training that FIFA gave the referees. It does contain one paragraph acknowledging that refereeing errors were made, but seemingly only so FIFA can make excuses and reassure us that solutions are being worked on:
It is clear that errors – some of them serious – did occur in the hundreds of often very difficult decisions taken over the 64 matches. These errors are neither covered up nor justified but are meticulously analysed to learn from them and improve future training plans. The challenge is to work towards improvements.
The most disappointing this is that this report is basically a sales brochure. As if FIFA are trying to sell us a timeshare in Brazil for 2014. FIFA needs to realize that it's OK. That we don't need any convincing. That despite their multiple errors we still want them to arrange future World Cups, if only because no one else is capable of doing so.
Subscribe

International Football News – World Cup Blog RSS Feed

Share
Comments are closed