FIFA Has $1 Billion in Reserve Funds, But Still Doesn't Appreciate Clever Advertising
March 19th, 2010 | by: Daryl |

View Comments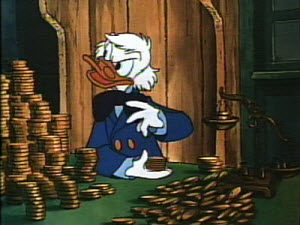 Two bits of news today. Read them both, and then decide for yourself whether the two are related.
The first story is that FIFA made a profit of $196 million in 2009, and now has a reserve cash fund of more than $1 billion. One billion dollars in the vault. Which makes FIFA sound a little like a Bond villain.
The second story is that FIFA have come down hard on South African budget airline kulula.com for what FIFA calls "ambush marketing". Basically, Kulula isn't an official World Cup sponsor, and as such is not allowed to suggest otherwise. Which makes perfect sense. However, Kulula – famous for its slightly left-field advertising campaigns – recently ran an ad in the South African Sunday Times newspaper on February 28th stating the airline was the "Unofficial National Carrier of the You-Know-What".
First of all, can I assume I'm not alone in finding that ad absolutely hilarious? Rather than straightforward trying to cash in on the World Cup in a cheap and nasty way, Kulula have instead made a clever and defiant gag at the expense of FIFA's heavyhanded copyright and licensing laws. (Licensing laws that we here at World Cup Blog (soon to be renamed the You-Know-What Blog?) are already familiar with.)
FIFA didn't find it so funny. They objected not just to the slogan, but to the fact that the ads featured stadiums, vuvuzelas and the South African national flag – none of which FIFA actually owns, last time anyone checked – and have forced Kulula to cease and desist with the ads.
"It's nuts to say that we can't use the words South Africa or images of footballers in close proximity to footballs, or vuvuzelas (plastic trumpets) or the national flag," Kulula Group Marketing Director Heidi Brauer told The Associated Press on Friday

"No one owns these things. It's like owning the sky," Brauer said.
Unfortunately, Kulula don't have much choice but to do as FIFA asks. But now comes the clever bit. Hands up if you'd ever heard of Kulula.com before this story broke all over the internet? Me neither, but I've just typed the company name exactly eight times in the course of this post, and now have a new favourite South African domestic budget airline, should I ever need one. FIFA may have all the money, but I suspect someone at the Unofficial National Carrier of the You-Know-What is getting a hearty pat on the back today for a perfectly executed marketing campaign.
UPDATE: Here's what the ad looked like, image via the blog MarkLives!: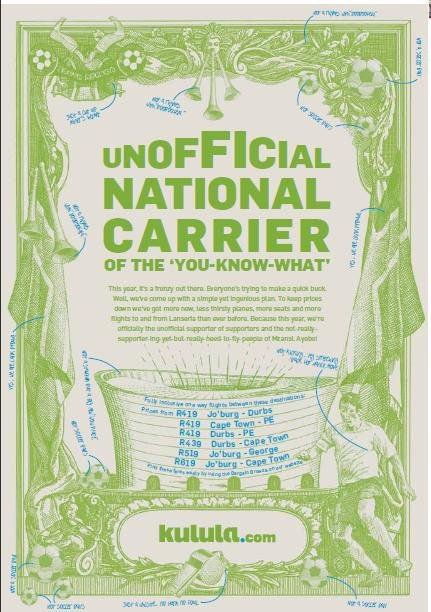 Subscribe

International Football News – World Cup Blog RSS Feed

Share
blog comments powered by Disqus