Europe's Big Leagues Fuel World Cup Squads
June 6th, 2010 | by: Jan |

Comments Off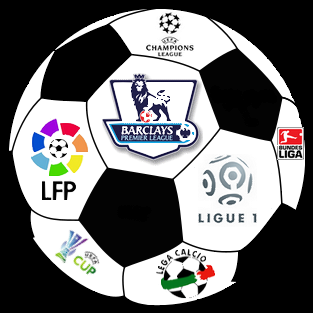 More than half, or to be precise, 386 out of all 736 players in this year's World Cup – plus/minus your daily injury victim – ply their trade in one of Europe's five big leagues; up from 346 in 2006.
The Premier League leads the way by some distance, providing 118 players (up from 103 in 2006), followed by the Bundesliga with 84 (75), Serie A with 80 (61), La Liga with 59 (51) and Ligue 1 with 45 (56). The relations stay roughly the same when you only count the foreign players, who play in those leagues.
Do those numbers allow for some conclusions in the ever popular my-league-is-better-than-yours game? Probably not. The numbers seem to simply correlate with the amount of foreigners, who play in the respective leagues. The average Premier League squad includes 64,2% foreign players, compared to 48,9% (Bundesliga), 43,3% (Serie A), 42,4% (Ligue 1) and 35,1% (La Liga).

To conclude this little numbers game: England, Italy and Germany are the only countries who recruit all 23 players from their domestic leagues only. Although in case of England and Germany, injuries to David Beckham and Michael Ballack contributed to this result. Nigeria, on the other hand, relies solely on players, who play outside their country, closely followed by Ivory Coast and Cameroon with 22 foreign based players and Australia, Serbia, Slovakia, Slovenia and Uruguay with 21.
FC Barcelona will be the club with the most players in World Cup action with 13. A title that would have been Chelsea's, if it hadn't been for the club's strange injury curse. Chelsea are second with 12 players, but could be down to 11, should Didier Drogba be ruled out for the whole tournament.
Subscribe

International Football News – World Cup Blog RSS Feed

Share
Comments are closed