EA Sports FIFA World Cup 2010 Game Gets a Release Date. But Will You Be Buying?
January 27th, 2010 | by: Daryl |

View Comments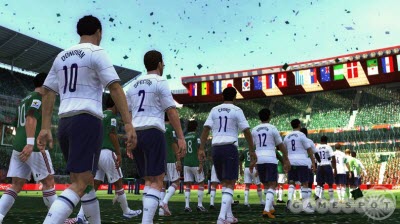 Every World Cup year since 1998, EA Sports has released a special version of its legendary FIFA game. This being a World Cup year, we'll be getting another one. There's even a release date penciled in, and it's apparently April 27th.
I can never decide how I feel about these FIFA World Cup games. Gamers will know that EA release a new FIFA game every single year, sometimes with and sometimes without significant improvements or changes. So releasing two games in one year raises the question: Is the EA FIFA World Cup game a part of the glorious celebration of football that is a World Cup year? Or is it a shameless attempt to cash in on said glorious celebration by slapping a World Cup logo on an old game?
Obviously I haven't played EA's World Cup game, so can't say what it's like. But if you want to get excited/be convinced about FIFA's World Cup game, then you'll enjoy this Gamespot interview with EA Sports FIFA World Cup 2010 line producer Simon Humber, discussing the development of the new game.
According to Humber, the April 27th release will feature:
A gorgeous new pitch: Our pitch simply wasn't good enough, so we've made it look superb.

Lighting of the players and environment: Clever changes to the lighting makes everything look more realistic.

Camera flashes: You'll see all the fans in the crowd using their cameras.

Seat cards: Fans hold up cards to form national flags and emblems in a show of patriotism.

Fans: Close-up shots on supporters cheering on their team or despairing in anguish.

Confetti rains down from the sky in the team colors and stays on the pitch all game.

Streamers create a carnival atmosphere as they glide to the ground.

Populated benches: Characters sit on the benches rather than being empty.

Broadcast graphics: The same captions you've seen in FIFA tournament broadcasts.

Close-up celebration camera: To really feel the goal-scoring moment, the camera zooms in close to the player as he responds to your celebration commands.

New players and managers: More content for star heads and many of the team managers.[England national team manager Fabio] Capello looks brilliant, and [notoriously tall English footballer] Peter Crouch no longer looks like a naughty elf.
All of which sound like cosmetic changes. There'll be a few tweaks to actual gameplay too, plus a facility to play out the World Cup online, competing against other human opponents. Or you can take your country through the whole World Cup qualifying process. Which actually sounds quite good. But I'm still not sure. Maybe the best bet is to hope someone else buys it and invites me around to play.
What do you think? If you already own FIFA 10, do you also plan to purchase FIFA World Cup 2010?
Subscribe

International Football News – World Cup Blog RSS Feed

Share
blog comments powered by Disqus